That's a really awful GIF I found in two seconds on Google, so forgive my impatience. But yes, I'm SO excited! Going to see it with a group from work and my friends Mels and Erin at 7:20. Can't wait! I wish there were Hunger Games-themed races. Without the death and destruction, obviously. I would need to be in much better shape to survive those. The zombie one alone will be cray cray enough.
So last night I went to the gym with my friend Katlyn. I was only going to run 2.5 miles but I managed a 5K distance, which is awesome. I knew I probably wouldn't be running again until Tuesday (busy-as-hell weekend), so I wanted to get in what I could. Was supposed to do some core this morning but, um, I slept instead. I knew I wouldn't get up to do it, I don't know why I told myself I would, honestly. It should be noted that the tagline for Planet Fitness (my gym) is the following:
The Judgement Free Zone
The absence of the hyphen bothers me, you guys. It really truly does. If the price wasn't to die for, I'd picket. I also prefer the "judgment" spelling, but that is another story. SMH. I wish I was joking but every time I walk past that stupid slogan I want to scream. And they have this buzzer that goes off when someone drops weights, to mock them. I'm like, first off? That's judgment. Second off, I want to buzz you for your crappy punctuation. Third, half the treadmills TVs do not work.
I stayed within my PP yesterday and earned a blue sticker! Woo hoo! It's been a while since I've seen one of those on my calendar, so it felt great - like the cliché single flower poking out from an otherwise desolate landscape. Of red stickers. Or sand. Whatever.
Weekend challenges, weekend challenges...
Tonight is Hunger Games, so I'm popping my own 100-calorie bag of popcorn and bringing that and some strawberries (yes, I'm THAT person). I already have two Jimmy Johns unwiches in the fridge waiting for my consumption. 5 PP for both, what uppppppp! Preparing FTW. We'll forget about that cake pop I had earlier and the ice cream I had a little bit ago. To be fair, I measured that damn ice cream, and I counted it all, and I researched various cake-pop recipes and picked the one with the highest PP value I could find (6). And I'm not hungry at all. After dinner and my popcorn and fruit, I'll still have 1 PP left. So booyah. But seriously, I should not be eating ice cream for lunch. That's not a good thing. My poor salad is sitting in the fridge crying.
My friend Danielle's bachelorette party is tomorrow, weeee! We're going to Disney during the day, so I'll eat breakfast before I go, pack a couple snacks in my bag, and try and be as healthy as possible wherever we stop for lunch. We're going out to dinner at night to an awesome-sounding place called
Hamburger Mary's
downtown. Which is a restaurant with a drag show. STOKED! Already decided what I'm getting: Chicken Club Salad with no cheese or bacon, light vinaigrette on the side. I may also be obnoxious and ask them to add oranges from one of the other salads. Anyway, then we're going out dancing and for drinks. ACTIVITY POINTS! I volunteered to be DD, so that will help a lot with the alcohol calories. Lord knows I drank enough last weekend. So do the people who kept walking past us while I was taking a nap in a park at 3 p.m. and asking Josh, "Um...is she OK?" Fail. 27 is the new 21. But seriously, I didn't drink after like 3. I am getting too old for these shenanigans. Poor Josh.
Sunday we're going bike riding in Downtown Winter Garden with Jeremy (Josh's brother) and Jess (Jeremy's fiancée). So that will be at least another APP earned. :o) Not sure where we're eating yet, but Josh and I have eaten at a couple places down there and I know I can find something fairly easily. Just have to make sure I eat breakfast so I'm not starving by the time lunch rolls around. I think we are cooking in the evening, then going to a show downtown.
Soooooo if you've read any of the comments in my last entry between my friend Kitzzy and me or if you saw my Facebook post about this a few weeks ago, you already probably figured it out, but...my big running news is that...
I am going to run a full marathon
.
Specifically,
this one
:
Like there was ever any doubt which race I'd pick.
It's the weekend of Jan. 12 next year so granted, I have some time to train. But I mean damn...26 miles? That is TWICE the longest distance I've run, and THAT takes everything I have. The thought of it is so scary, but I have to try. I don't want to stop at a half marathon. In my head, that's only half way. When running was my escape, the half was the goal. I've met that goal a couple times now, so I feel like it's time to set a new one.
To train, I am joining the
Galloway Marathon Training Program
at the beginning of June. Kitzzy recommended it to me - she's a leader for one of the groups, which is what we were talking about in the comments on my last entry. She is running the marathon too. :o)
But um yeah. June. In Orlando. RIGHT at the beginning of summer. In other words? FML. The heat itself will be killer. Luckily(?) the runs are all early, so the heat won't be an issue as much as the suffocating humidity, which I just learned is worse in the mornings. JOY. Hopefully my body adapts fairly quickly and I don't die. The program is designed to prevent injury, which is great, because I'd really rather keep my limbs and joints as they are if possible. My toenails are another story. I haven't lost any this year thus far, but who knows. There are still nine months of toenail-losing potential left.
I don't know what the hell I'm thinking. If someone told me 10 years ago (hell, three years ago) that I would run a marathon one day, I would've laughed in their face. The seven months between June and the race will teach me a lot about what I can endure, physically and mentally - I'm sure of it. I will be waking up when it's still dark out...on a weekend...whyyyyyyyyy ugh. I will be bitching, moaning, complaining, etc. a lot, I promise. Maybe I should re-think this. NO IT'S TOO LATE I CAN'T BACK OUT, I AM POSTING THIS ENTRY AND YOU GUYS CANNOT LET ME BACK OUT.
Anyway YEAH. Fun times. Stay tuned on all that.
I'm also realizing lately (and by lately I mean in the last day and a half) just how much feeding my body well and running affects me positively. The difference between my attitude when I'm eating poorly and not working out vs. when I'm eating well and working out is astronomical. My mom even noticed this after I called her after a run a few weeks ago. She was like, "You always sound so much happier and upbeat after you run." That was nice to hear, because sometimes I don't really think about it. But I've noticed it more and more lately, and I really want to be able to move more consistently toward getting high off of that feeling rather than food.
This has gotten lengthy. Until next time...
IT'S HUNGER GAMES DAY!!!!!!!
Current Mood:

chipper
So with that, yes -
I'm back
.
And I'm SO EXCITED to be back, you guys. I have wanted to start blogging again for a while, but my heart was just not in it. I would take a couple steps forward and then regress, and I didn't want you guys to see me continually failing. My food journaling and fitness have not really been priorities numeros unos lately, sadly. And while I have been working at some level and am only up about six pounds from my 2011 post-half high, my mind hasn't been in that place for a long time. It has gotten easier and easier to talk myself into why I need a specific type of food at a specific moment, and that in the long run it won't make a difference if I estimate the ounces of this piece of cake, or the volume of that bowl of ice cream, or the grams of that bit of avocado. When I get to my goal and can truly say I don't turn to food or lethargy for stress relief? THEN I will know I can pack my digital food scale away. But for the next 10 weeks at the VERY least, that is not going to be happening. And I'm grateful for this consistent voice that is pulling me back to writing.
I know it will be difficult at times and unrealistic to hold myself 100% accountable (especially with some events I have coming up, i.e. a bachelorette party and a wedding), but that is where
balance
comes into play. There is absolutely no reason I need to be going over my Daily PointsPlus (PP) values on a normal, run-of-the-mill day. Every time someone has brought treats into the office lately, I've allowed myself to indulge. When Josh and I buy a bottle of wine, we can finish it in one sitting. Now, doing these things once in a while is OK. At the rate I've been going? Definitely not OK. And I'm not punishing myself for it, nor do I think I've done anything "bad", "wrong", or "shameful". In fact, even thinking about giving up sweets and foods I truly love makes me sad, so I will never do it. However...it's time for me to step back and take some control.
The past couple weeks aside, what has been saving me lately has been my running. I actually ran the Disney's Princess Half Marathon again this year, and I beat last year's time by about six minutes. And I got under 2:30:00 (2:29:12, to be exact), which was my other goal. SO stoked. Here is a photo of me before the race, and another of Josh and me after I finished.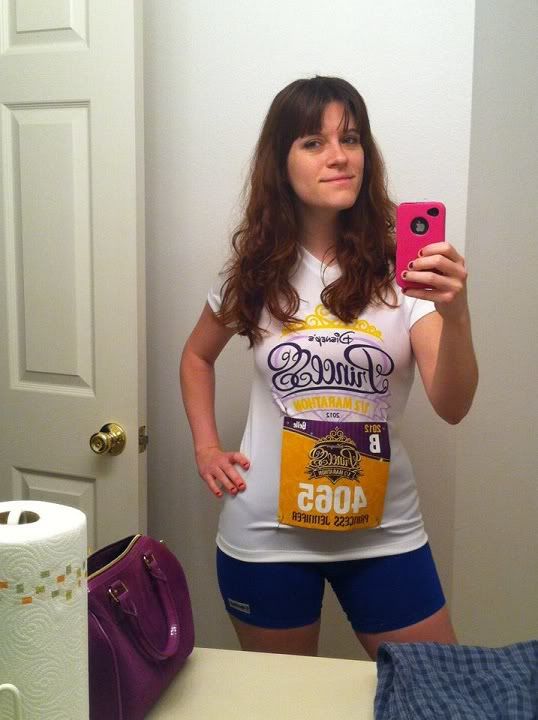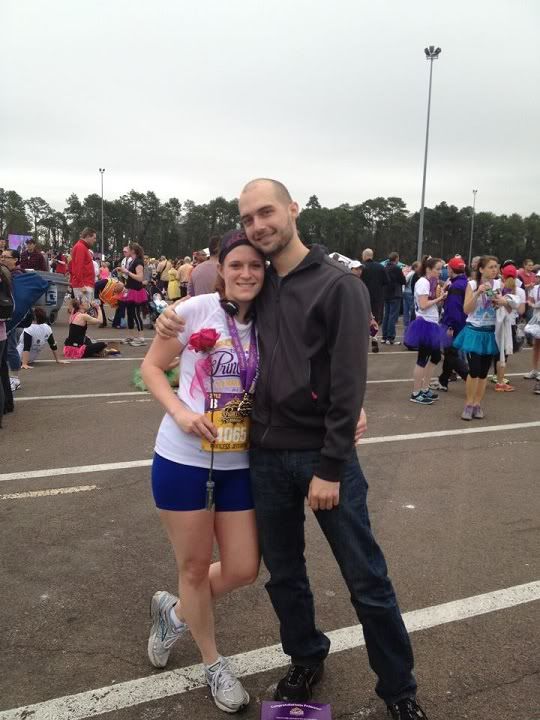 He was SO supportive and wonderful. A couple of our friends visiting from Miami also got up at the ass crack of dawn to come cheer me on. It was the most amazing day.
Also want to say it has been a year and six days since Josh and I began dating. This really has been the best year of my life and, food and fitness challenges aside, I wouldn't trade it for anything. Here's a photo from our trip to Savannah this past weekend. We went for our anniversary and my birthday, which is on St. Patrick's Day.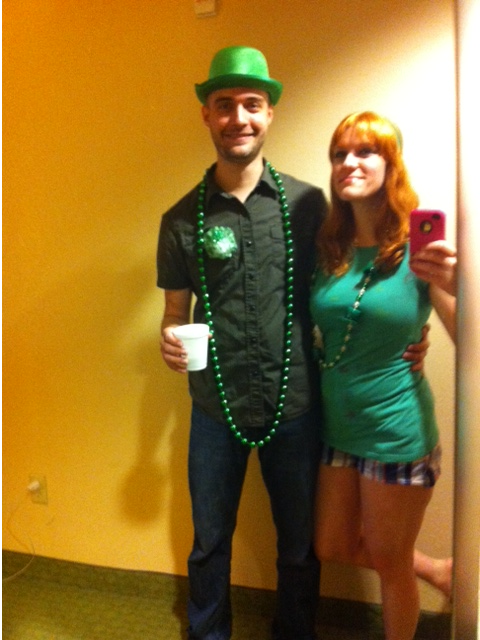 There are better photos, but they're mostly on his phone. I need to get them onto le Facebook. But yeah, my hair is
very red
. I think I like it, but I need to give it a couple more weeks before I decide if it's right for me.
I've signed up for some upcoming races! Notably the
IOA Corporate 5K
(this will be my third time running it) and the
Earth Day 12K
. I'm really happy I have some impending races to train for. Last year I made the mistake of riding the post-half high for way too long, and...well, we all know how that turned out. ;-)
I also signed up for this FREAKING AMAZING RACE NOVEMBER 17:
RUN FOR YOUR LIVES
!!!
I literally screamed when I saw that it was coming to Orlando. Atlanta was the closest city they'd announced for a while, so I couldn't believe it when I saw Orlando. Ahhhh! Zombies and running - HOW MUCH MORE AWESOME CAN YOU GET!?!?!!!?! I can't effing wait. Josh and our friends Adriana and Geo are doing it with me. If you're interested in joining us, we're in the 9:30 a.m. wave.
I also have another little tiny bit of running news up my sleeve, but that will have to wait for tomorrow...
Love you all so much. Thank you to everyone who has stuck with me! Hope you're all meeting - nay, destroying - your own goals.
I thought for a few minutes about how best to title this entry. A few ~punny things ran through my mind, but then I remembered why I started this blog in the first place over a year ago. It wasn't to be funny or to entertain anyone. It was to chronicle and share how I was able to channel my frustrations over a rocky point in my life into something positive and worthwhile, through the own purging of my thoughts. So with that I thought, "What do I title this? Maybe just exactly what I'm feeling like I want to say is a good starting point."
Current Mood:

determined
(
Food/Activity Log: 12/15/2011
Collapse
)
So first things first: took my
measurements
last night. I've actually lost 2.25 inches since I started WW again right after my trip, so that's good at least!
I ran my ass off last night. 4 miles at an 11:12/mile pace, which is very much below my average, so I was stoked about that. I did it on the treadmill while watching the
Hey Arnold!
Christmas special on Netflix on my iPhone.
Hey Arnold!
is the best Nicktoon of all time, and if you don't agree, I'm sorry, but you're fiercely misguided. For those of you who have not had the privilege of seeing the Christmas special, here's pretty much all you need to know:
I feel you, Helga. I totally had a crush on Arnold too, and you were way more fierce that that Ruth chick, and Lila too. Squares, to be honest. But yeah, I got teary-eyed during my run, and for once in wasn't due to the pain shooting up my shins or the thought of possibly passing out mid-run, so I guess that's a victory? Hope the other people in the gym didn't see it...they were probably like WTF is this girl on?
I've been keeping up with my running, for the most part. I have Ragnar in three weeks...D: And I have a 10K-distance leg in the middle, so I need to get my body worked up to that by then. It's going to be a huge challenge, but I'm hoping for the best. The most difficult part at this point, honestly, is my schedule. Josh and I are going to Jacksonville this weekend, New Orleans next weekend for Christmas, and then Gainesville for New Year's. So I've really got my work cut out for me as far as squeezing in these longer runs. The
plan
is to run a 5K distance this Sunday morning on the beach in Jax, run 5 miles the morning of Christmas Eve at City Park while Josh takes my mom to breakfast, and then run a 10K distance the morning of New Year's Eve at the gym at Josh's brother's apartment complex (because, let's be real, I'm not running a 10K the morning AFTER New Year's Eve).
Speaking of running, here are a couple of photos from a couple races I've run recently.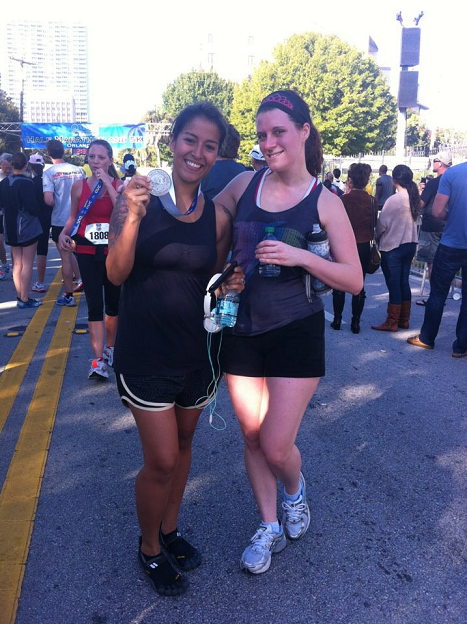 This is my best friend Yurani and me at her first half marathon, the
OUC Half
, which was Dec. 3. She did flipping amazing - 2:08 or so, I believe. She was a machine and I'm so proud of her accomplishment! I met her at mile 9 to run the last 4 miles, which I did have to stop and walk a couple times during, but paced pretty darn well - I think around 11:30/mile. I was supposed to meet her at mile 8 but there was a ton of traffic on 408 (stupid construction), so I was a bit late. Josh was an angel and drove me, and luckily he dropped me off RIGHT at the spot she was about to pass and she saw me. We went to Gizmo that night for dinner. Delish.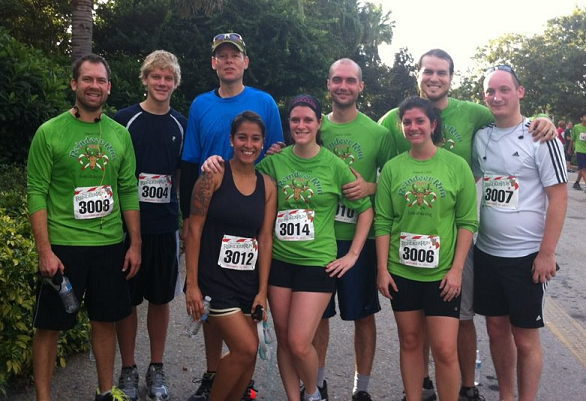 Josh is so adorable, I can't even.
This was at the Track Shack Reindeer Run, which was this past Saturday. I ran it with some of my co-workers and +1s, and Josh and Yurani joined as well. Yurani and Josh did so amazingly - both beat personal goals of theirs! I did OK, about what I've been averaging. The race course itself was at Sea World, which neither Josh nor I have actually ever been to otherwise. People think we're crazy, but honestly, I think for the price there are better theme parks. And cheaper aquariums. But running through the park was a lot of fun. And so many people were dressed all Christmas-ish and had bells on their shoes, including yours truly. Afterward, Josh, Yurani, and I went to First Watch and I restrained myself - had a cup and a half of coffee, egg whites with avocado and salsa on a dry English muffin, and some fruit. I love pancakes and potatoes and bacon and everything First Watch has on their menu, basically, so this was a big victory for me too.
I hope I can suck it up and stick with the running and mindful eating with all the holiday hubbub going on. I'm sad I have to miss my WW meeting next week, since I'll be driving to NOLA...but I checked my scale this past Wednesday right before I left for my meeting, and it was telling me 1.8 above what the meeting scale told me. So the plan is to take my scale with me and weigh myself when I stop for lunch. IDK how I am going to pull this off without looking like I just escaped from the insane asylum, but I'll think of something.
I have been absolutely FAMISHED this morning. I only have 14 PP left for the day, and we are going to dinner in St. Augustine with Josh's parents tonight. :-/ Going to have to research the menu and plan on the way (thank the lawd for the iPhone), since Josh's mom hasn't told him the name of the restaurant yet. He said she always orders salad, so I know I'll most likely at least have that option. But yeah, I think my dinner last night probably wasn't enough to tide me over for the rest of the night after earning 7 APP from my run: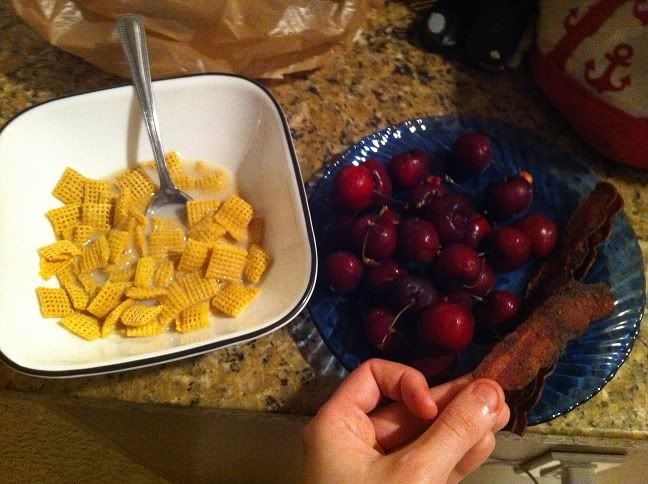 Breakfast for dinner FTW. And it was only 6 PP! I am obsessed with fresh cherries. I used to hate cherries, but it turned out it's just the maraschino ones I wasn't cool with. I can eat them now, but I'm still not the hugest fan.
Another kick I've been on lately is spaghetti squash. I've been using it as a pasta substitute, for ZERO points! It doesn't taste like pasta, obviously, but it's the same shape when you scoop it out. It's really filling too. I have made it with turkey meatballs, low-fat pasta sauce, and some grated Parmesan cheese. About 5-6 points for a large portion and so very worth it. Yum. To make the squash, I just cut it in half lengthwise, scoop out the seeds, place the halves flesh-side down in a casserole dish filled with just a little bit of water (to steam), and bake at 350 degrees for about 30-35 minutes. Then, you let it cool and scoop out the insides with a fork. It comes out like spaghetti - hence its name.
I bought some eggplant recently too. The other night I sliced it up (yay for my roommate having a mandolin - I need to get one of those things), baked the slices, layered them on some WW multi-grain toast (2 PP for two slices!), added 1/4 cup of low-fat pasta sauce (1 PP) and 2 tbsp. of Parmesan cheese (1 PP), and toasted that sucker in the toaster oven. Eggplant parmigiana sandwich for 4 PP, son! Very delicious. I probably should've cooked the eggplant for less time (maybe around 12 minutes instead of 15), but it turned out well nevertheless.
I really want to try
this
recipe that my friend Krys of
Peony & Pear Tree
and
Krys Melo Photography
recently posted about (beware - she also recently posted photos of amazing-looking cake pops and you WILL lick your monitor). It looks extremely delicious and very WW friendly, so maybe when I get back from New Orleans I'll try it. Don't have time before then, sadly. But I'm a squash fanatic, especially lately, and I love working around meat if I can, so I can't resist trying it out. Plus, Josh isn't a big fan of squash, sooo anything to bring him over to the dark side...
I can't help it. Squash is so versatile and delicious.
Oooh, I also have to gush about new MAC blush I got in the mail yesterday!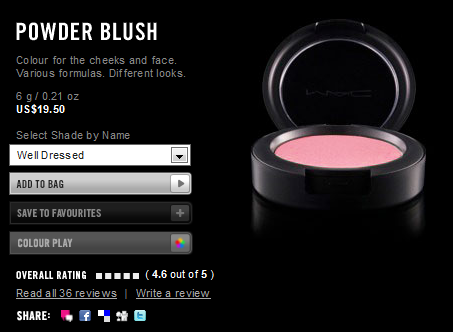 Thank the lord. I needed it so badly. Thanks, Secret Santa co-worker for my gift card. :o) Now I just need to get some new brushes and eyeshadow primer and I'll be good for a while.
This post has gotten way too long, so I'll be back Monday to recap the weekend and talk about my goals and whatnot.
Thanks to those of you reading. ♥
Current Mood:

silly
as you can see
- it helps me look forward, don't judge me), but for the amount of food that has danced shamelessly in front of my face, I'm giving some credit where credit is due. I haven't had a short-term goal to motivate me lately, and I have been tallying how many pumpkin- and gingerbread-flavored things I can fit in my mouth at one time. That is an exaggeration. I expect you to have caught it. Though if you didn't, I will not fault you.
Why, you ask? Because Jen is addicted to sweets.
Story time. Last night, about an hour after I went to sleep, I woke up and my body felt like it needed to bust its way out of a very tight box. For those of you who don't know (which I think is everyone aside from myself and Josh and now one of my co-workers, who gets the same thing), I have
self-diagnosed
restless-leg syndrome
, which is apparently a real thing. It doesn't happen very often, but when it does it wakes me up (and I am VERY difficult to wake up, as Josh can attest to). Last night, I woke up having that tense sensation over my entire body. WHAT. So Josh had me do some focused breathing, and it helped at first, but I could not shake the tension out. So my gut reaction was to get up and get some sugar in my body, since I had cut back DRASTICALLY the last two days and was kicking some major WW ass. I had a granola bar and about half a cup of ice cream. And fortunately/unfortunately...it helped. It may have been subconscious, who knows. All I know is I slept soundly the rest of the night.
This is not good. This means my body is addicted to refined sugar to the point where it is waking me up and saying HEY, PLEASE FEED ME CHOCOLATE, KTHX. It could be all in my head, but regardless, it supports the idea I had to
give up sweets for the entire month of January
.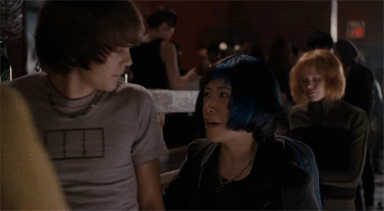 Don't look at me like that, Knives Chau. I gave them up for
half of
Lent in 2010 and I can do it again. Also, Josh is giving up alcohol. He has a beer or two most nights so this will be difficult for both of us. But we are determined. If we can't survive a month, then...I don't even know. We'll cross that bridge when we come to it. Which will be NEVERRRR.
Let's play the "What do these things have in common?" game. Ready?
1. My age.
2. The number of full miles in a marathon.
3. THE NUMBER OF POINTS I GET ON THE ~AMAZING NEW 2012 POINTSPLUS SYSTEM.
I'll help you out.
It's 26.
FMLLLLL. 29 PP was hard enough to stick to, and now I get 26!? The good news is I'm allowed to ~*up it*~ to 29 on weeks I feel like it. Which is fine, I guess - I can pre-plan for the more difficult weeks of the year, i.e. holidays, vacations, and my birthday - but still. Granted, I have been doing AMAZINGLY the past couple days, save for the sweets shot straight to my heart last night around midnight...so maybe with some more produce thrown in, I can survive and actually lose. We'll see how this goes.
Going to take my measurements tonight, and I'll start posting my food logs again too. I'm in it again, and I'm not going to let that leftover pizza or birthday cake in the office fridge, my roommate's baking rampages, or chocolate fountains get in my way. Speaking of which: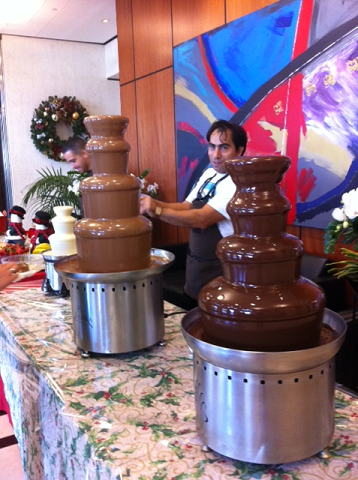 Lmfao the man's face. But yep, those beauties were in the lobby of my office building yesterday. Good thing I was just returning from my WW meeting armed with new tools and a re-vamped program to explore, or else I may not have had the willpower to say no. Sent a very nice FML text with the photo accompaniment to Yurani, Josh, and Danielle. Yurani texted back with my exact thoughts: "I would take off my clothes and swim around in it and put my face under the spout." Paraphrased, but I'm way too honey badger to check the text for the exact wording, let's be real right now. My ENTIRE HOLIDAY SEASON has been like this, you guys. October-December is a sweets addict's NIGHTMARE, and I am no exception.
I realize this entry is super disjointed and rambling, but to be honest, I like it. I'm feeling like my old self again. I feel like I've been so stressed lately to organize everything perfectly that I just want to kind of let go and take care of/be myself. So that's what I'm going to do, content organization be damned.
Next time I'll talk about how my running progress is going, recipes I want to try, and some more specifics about my goal weight and how, as well as when, I plan to achieve it.
OK, I promise it's not actually as bad as that. Since our last episode, I've been pretty much maintaining. This is NOT in line with my goal of losing and getting to my goal weight (which is why I have knocked myself back to Week 1,
Current Mood:

chipper


And I was dying the first two miles - with no food in me, paired with my complete disdain for being awake before the sun is out, my mind was telling me I wouldn't be able to finish the full 5K distance. So I made a deal with myself around mile 1.25 that I'd push to 2 and then finish the workout with 15 minutes of core training.

But at around mile 1.9, something changed, and I realized I could do the entire distance. So I did, in 35:43. Not good enough to beat my PR (34:09), but hopefully by the Reindeer Run on Dec. 10, I'll be able to.

I haven't been able to do this in a very long time, and I'm really proud of myself, despite the impending gain at my meeting today. I can do this.

Happy Thanksgiving, everyone!
I just wanted to post a really quick entry saying that I ran this morning. I got my ass out of bed at 5:30 a.m...but then I lied back down. But I realized I wasn't tired anymore, and that if I didn't run, it would be another two days until I did again and it would be SO much worse. So the thought of that, plus Ragnar, plus Thanksgiving and the guilt I knew I'd feel that might drive me to eat even worse made me PUSH myself out of bed to get dressed and go to the gym.
Current Mood:

accomplished
(
Food/Activity Log: 11/17/2011
Collapse
)
(
Food/Activity Log: 11/18/2011
Collapse
)
(
Food/Activity Log: 11/19/2011
Collapse
)
(
Food/Activity Log: 11/20/2011
Collapse
)
(
Food/Activity Log: 11/21/2011
Collapse
)
OK so this week has not been easy food-wise, and for the most part I have allowed myself to fall victim to treats and deliciousness. But I have counted every single bite I have taken, and not allowed myself to pretend like I haven't eaten certain things, which I'm happy about. I do wish I was planning better, but I'm counting, I'm sticking my workouts for the most part, and I'm doing this all through a fairly brutal-so-far holiday season. So that counts for something. It isn't up to my usual standards, but I'll take it for now.
My first big challenge this week was a birthday party Mels and I hosted Friday night at our apartment for our friend Demos. Here's what she decided to make: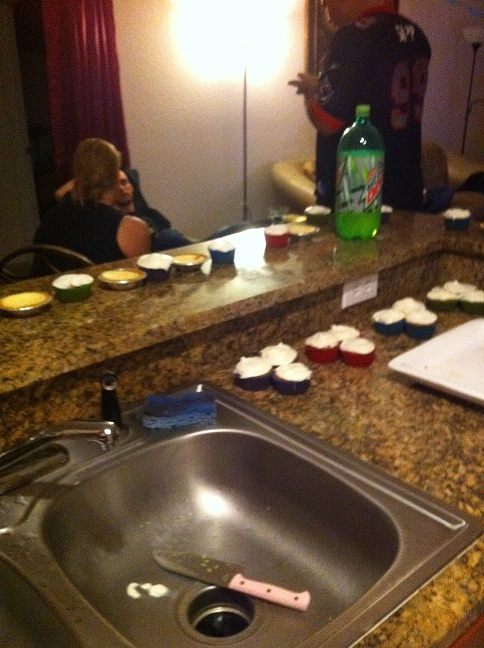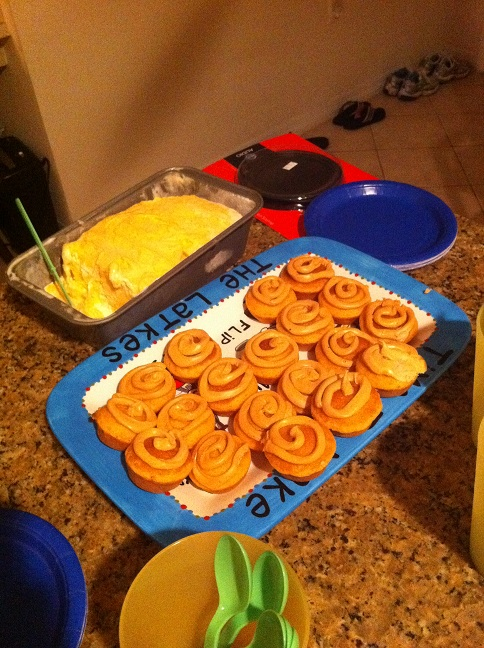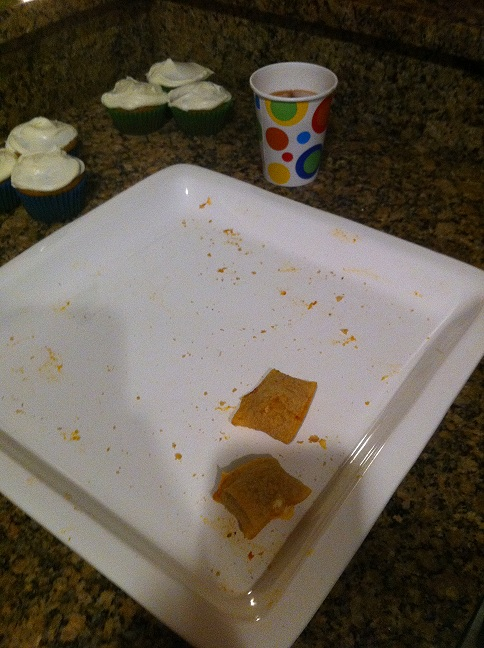 The pizaa rolls were pretty much gone by the time I took this, as you can see. And to be fair, our friend Katlyn brought the creamsicle cupcakes and ice-cream cake (middle photo).
But yeah, that first photo is an assembly line of mini cheesecakes and pumpkin cupcakes. Stuff Melissa doesn't like, but of course I can't get enough of. My reaction upon walking into the apartment was actually one of anger, kind of. Not at her, but just at all this food - like it was DARING me to eat it. I was so irritated at the blatancy that I busted this out and ate it.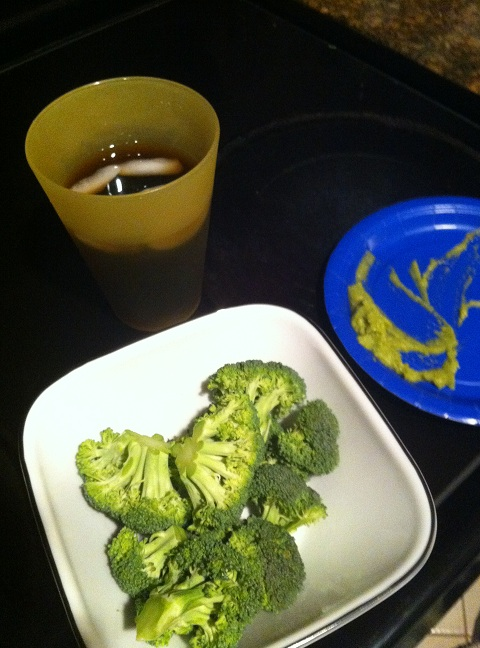 Yep, that's vodka and Coke Zero next to my broccoli and guacamole, and I don't even care. And at the end of the night, I measured ONE cheesecake (2 oz., 5 PP), and ate it. Didn't touch any of the cupcakes, the chips (not pictured), the ice-cream cake, the pizza rolls, etc. So I felt pretty good with my one indulgence - three if you count the vodka-and-Coke-Zeroes, but I don't. I pushed all the leftover desserts and chips into Demos' hands to take home, so that was a win. I forgot about the ice-cream cake, but honestly, I'm not a huge creamsicle fan so it's OK. Thank the lord.
So that was Challenge #1. Challenge #2 was eating out with Mels on Saturday. We went to Sweet Tomatoes and I did pretty well. Got a big salad, a cup of soup, and some fruit for dessert.
Challenge #3 was Josh's birthday dinner Sunday night, where I actually did a lot better than I thought I'd do. I only had one beer, since I had to drive, which was convenient. I made a build-your-own salad with dressing on the side. But I did split a potato-pancake appetizer with Josh and had a few bites of his food to try. I mean, how could I not, honestly? Look at it: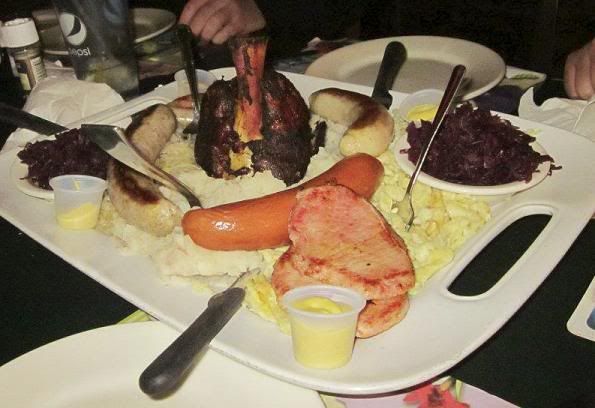 And I had a couple bites of his dessert, which was a German cheesecake. Here's another photos of us with our beers. He had a great time, which I'm very happy about. He deserves it.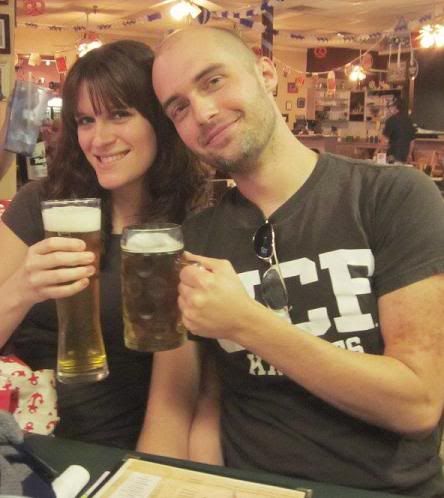 Honestly, all that food (plus the sushi I had a couple times, though I actually picked low-PP rolls and had broccoli instead of a second roll each time) probably wouldn't have done me in for the week. The real kicker was Challenge #4, which was my work's Thanksgiving potluck yesterday. Turkey, gravy, mashed potatoes, green-bean casserole, corn casserole, cranberry sauce, cakes, pies, rolls (well, biscuits - my co-worker Jared is a little special)...you name it, we had it. There was a pumpkin-pecan streusel pie from Publix, which I didn't even know existed.
My pants are so pissed off at me today, I can't even begin to explain. I am very grateful Josh's mom makes some healthier dishes at Thanksgiving, because I want to enjoy myself and not have to worry as much. I decided to bring along those
brussels sprouts
I made a couple weeks ago that Josh loved, instead of the potatoes. I hope they're as much of a hit with the rest of his family. I'm very excited to spend the holiday with them. I miss my own family so much and wish I could see them, but I'm so grateful for Josh's family inviting me to share their traditions.
I'm a bit irritated at myself for skipping my first yoga class Sunday, but like I said, I am proud that I've been keeping up with my running schedule for the most part. I did another 5K distance last night. I took it a little slower than I did on Thursday, which turned out to be a wise decision because my shins were on fire afterward. I iced them for a while and they seem to be fairly OK today, so that's good. I want to put in a 5K distance tomorrow morning, since Josh and I are leaving for Jacksonville right after work.
I know that this week's not-so-great food choices will reflect on the scale tomorrow, and it does suck. But I know kicking myself over it and dwelling on it will do nothing, so I'm going to try to keep a positive outlook and tell myself that just because it's Thanksgiving week...and Josh's birthday week...doesn't mean I'm going to be out of control. I want to challenge myself to lose this week. I know I can do it - I just have to want it badly enough.
Current Mood:

a little defeated
Current stats as of 11/16/2011
(
Food/Activity Log: 11/15/2011
Collapse
)
SO freaking happy to report that despite my weekend of epic WW fail, I still managed to squeeze out a 1.4-lb. loss at my meeting today. I have no idea how it happened, as my scale said I was UP two pounds on Monday morning, but I'm absolutely stoked. On the one hand I feel like I don't really deserve it, but I do know I have been working pretty hard these past couple of weeks to get back on track, especially with my running. Ragnar is really motivating me, because I don't want to be walking and letting my team down come January. But I do know that my negligence this past weekend WILL catch up with me if I'm not diligent, so I'm going to continue on this trend and plan, plan, plan.
Speaking of, at my WW meeting today, my Leader talked about Thanksgiving and how to avoid going crazy. We filled out this little sheet to plan our meal: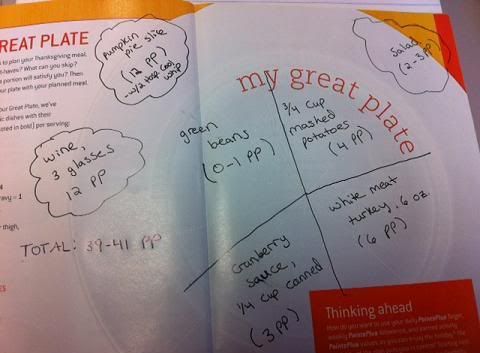 Luckily Josh let me know what his mom makes every year for Thanksgiving, so I planned around that, and incorporated a couple things I planned on bringing, which are the salad and mashed potatoes.
This
(and
this
and
this
) is the salad recipe I'm looking at, and
this
is the mashed-potatoes one. I'm going to use chives instead of garlic in the potatoes because his dad can't eat garlic.
Overall, I think I was pretty realistic with my plan, and will have a chance to eat the things I really love (i.e. mashed potatoes and pumpkin pie). At first I thought, "Well maybe I can just have half a slice of pie..." But I know I'm going to eat the whole thing, so I'm just planning for it and I'm going to enjoy every second of ONE slice of pie. Moderation, baby. I has it.
Also happy to say I stuck to my plan of getting a spinach salad last night. Yes, I stole a few of Josh's French fries, but I ended the day with PP left over so I'm OK with that. The poor waitress, though. I was like, "So, can I have this salad, but not with this, but with this stuff instead, of and can you add asparagus on top and give me your lightest dressing on the side THANKSSSS!?" They forgot some stuff on it, but I hardly ever get salads the exact way I asked for. It's just hard saying, "Leave off this, this, and this" because then it's boring as crap and I feel resentful. Usually they're nice about it, but it's still annoying that they ALWAYS get it wrong. This is why I love Mellow Mushroom and Designer Greens. Build Your Own Salad FTW.
Last note for today: I know this isn't health-and-fitness related, but I encourage anyone who is against censorship to fill out this form:
http://americancensorship.org/
I am very, very anti censorship in general, and if you don't agree with me that's OK. I just want to ask as many people as possible to please, PLEASE support open communication and teach your children, aka the future leaders of this country, right from wrong, real from make-believe, educated from ignorant, etc. instead of pulling reality out from under them and telling them their right to speak their minds is in danger of becoming extinct.
Current Mood:

accomplished
(
Food/Activity Log: 11/14/2011
Collapse
)
The answer to this enigma is the ????? portion of our lives: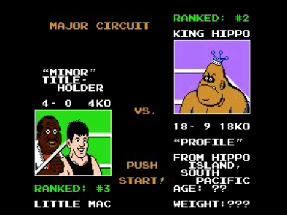 As you can see from this extremely dated character profile, we have no idea about King Hippo's age or weight. Likewise, Jen has absolutely no idea how many WAPP she is over for the week - that number under the cut is a gross underestimation and represents only the amount I went over as of Saturday night. King Hippo and I have made good use of this punctuation mark, and we're both honey badgers about it, honestly.
Also, I looked liked this after Food & Wine Fest.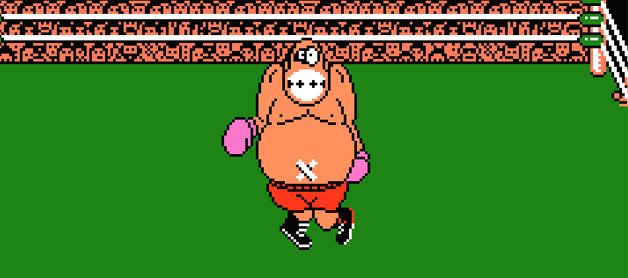 KO, indeed. And no, I will not post photos from the Wii version, because
I pretend
it doesn't exist.
Yesterday was actually a pretty big success for me, though, and that deserves some recognition. I stayed within my PP, which wasn't too hard, considering I had a very busy day at work and was still full from Sunday. But I also ran a full 30 minutes not only without feeling like I was going to die, but feeling energized and HAPPY afterward. I don't understand it either, but I like it. And it made me remember that once upon a time, I did actually enjoy running. Normally I get very discouraged with my fitness if I'm doing poorly with my food choices, and vice versa. Yesterday I pimp-slapped the lazy away and burned off some of the F&W fodder (...at least one of the beers.).
And it felt GOOD! It was tough at first, but around mile 1.5 I got that second wind that I know means my endurance is working its way back, slowly but surely, to be able to take me longer distances. I felt like I'd really tapped into the INO ideology again. For those of you who don't know, INO stands for "It's Not an Option" - in this case meaning skipping my workout was not an option. I got it from a book I read last year called
Secrets of a Former Fat Girl
, which I loved, and may re-read. It's been staring at me from my bookshelf. Though if anyone has any other reading recommendations, I'd love to hear them. I love reading about success stories, especially from people who have always been heavy or have had a particularly difficult time changing their mindsets, whether they were financially unstable, endured a challenging upbringing, etc.
I'm happy I've been pretty solidly
sticking to my workouts
. I got lazy Friday, but if I skip, I'm glad it's not a run day. I need those if I want to stand any chance of running my Ragnar legs all the way through, which is the goal. I also realized I can probably run my 30-minute days a little faster, so I'm going to pump up my speed to about 5.2 Thursday and see how I do. I really want to beat my 5K PR (which is 34:09) at the Reindeer Run on the 10th. I'm pretty sure I can do it if I really focus and stick to my runs. I know the core workouts help my endurance a ton, as well, so I can't slack on those anymore.
Let's talk about Houlihan's. Houlihan's is where I am going to my first STC (Society for Technical Communication) meeting tonight, and it's the type of restaurant where you may as well order a burger, because the salads aren't going to do you any favors if you're trying to lose weight, or avoid a heart attack altogether.
Here's the menu
, and
here are the nutrition facts
. I'm not even joking, here. Most of their salads are well over 1,000 calories, which is outrageous. So my plan is to get the spinach salad with grilled chicken and no nuts, and ask them to add some of the fruits from the other salads (bananas and oranges) if they can. And then to get a lighter dressing on the side. I'm estimating 8 PP max, but I'll have to see how big the portion of chicken they give me is.
Weigh-in is tomorrow. I hope the scale conveniently forgets about my weekend.
Current Mood:

chipper
Of food, of course. I am a victim of food. Totally not my fault that I went crazy at Food & Wine Fest. The food FORCED itself into my face and made me enjoy it. You weren't there...you don't know how aggressive the following items were:
- free Moroccan lunch consisting of lamb and chicken souvlaki pitas, hummus, chips, couscous, parsley something or other, and around 8 oz. of beer (seriously, free)
- 24 oz. more of beer
- cannoli
- crème brûlée
- escargots
- a lamb slider
- salmon with maple glaze
- lobster roll
- beef with sweet potatoes
- pumpkin mousse
- Belgian waffles
- baklava
- a frozen blue margarita that tasted like blue ice pops
I'm lying about being force-fed these things, obviously. But this was the most creative way I could think of to tell you about my failure of a Sunday. I ate so, so much. Granted, everything was a tiny portion, but still. I didn't even eat the snacks I'd packed, which there is really no excuse for. Honestly, the fact that I was already over for the week just made me not care at all, which is bad. I want to do a better job of planning, so I can enjoy things I really want. Yesterday, I physically enjoyed all that food. It's the mental portion that needs some love, and I'm going to move forward and work my ass off these next couple days to stay on program and try to detox from the sweets. I've been eating WAY too much sugar lately, and am too embarrassed to admit exactly how much, so you guys will just have to trust me. I'll start posting my food logs again tomorrow, but seriously, I didn't even track Sunday. I started to - even made a filling low-point breakfast for Josh and me - but from there, all hell just sort of broke loose, and I WILL pay for it Wednesday on the scale. But just for the hell of it, here's a photo of us in front of the Epcot ball.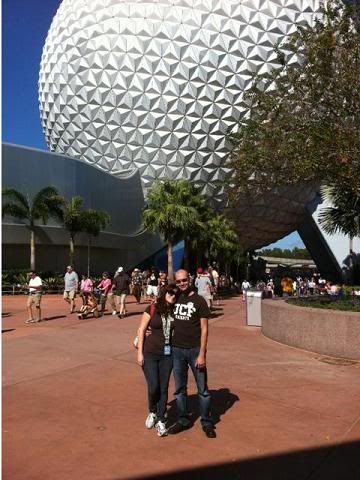 We did have fun. But it's back to the grind for me.
On the plus side, I have run two 5K distances since Thursday without dying, and I tried new recipes this weekend:
Recipes are under the cut:
(
Pork tenderloin with blueberry-onion sauce
Collapse
)
I skipped the port wine and just used water, because port was $7.50 for the smallest bottle and I only needed 1/4 cup, soooo no. Hah. I also used fresh blueberries instead of frozen, because they were on sale. Yes, I'm cheap. But I did buy all the herbs fresh, and that crap adds up!
I burned the onions on accident (oops), but it actually helped a little, I think? I don't know. Josh says the best thing you can burn is onions. They tasted good and crispy, but the apartment was fairly smoky for a few minutes. Worth itttt. I don't like the texture of soft onions, anyway.
(
Steamed new potatoes with lemon and dill
Collapse
)
Very delicious! Again, I used fresh dill. Next time I'd add a little less of the lemon flavor, but overall a really solid recipe. I didn't have a steamer basket, so I just used a little bit of water and stuck the cut-up potatoes right in it.
(
Broccoli bake
Collapse
)
The recipe, as you can see, calls for broccoli and cauliflower, but I just used all broccoli because it was on sale. :p I also used panko bread crumbs, because that was what I had on hand, and they worked fine. The end result had a bit of a crispy outside, just like the brussels sprouts from last week. So Josh, of course, loved it (as did I).
So yeah, everything turned out really tasty. Here are some gratuitous photos of my boyfriend enjoying it: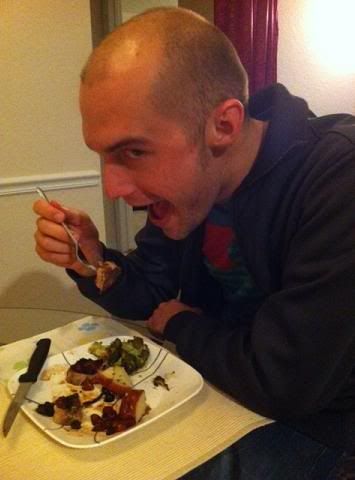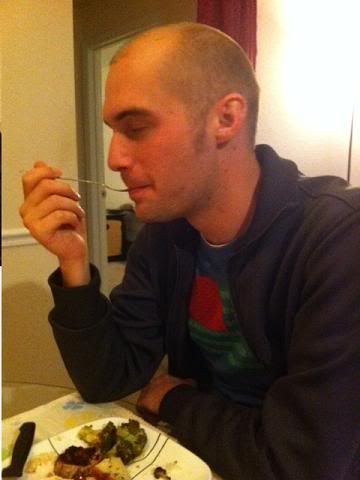 My cat, Penny, felt left out, so here she is eating a treat at the table.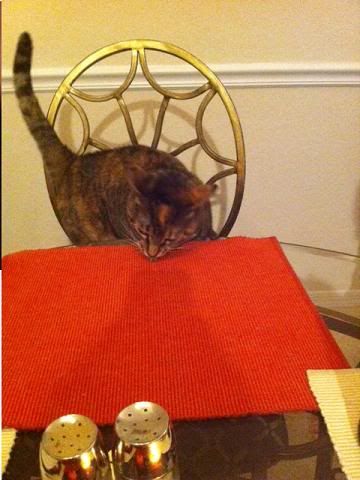 And here is my roommate's cat, Cosette Cthulhu Falcor Possum-Face, or as I call her, the Devil.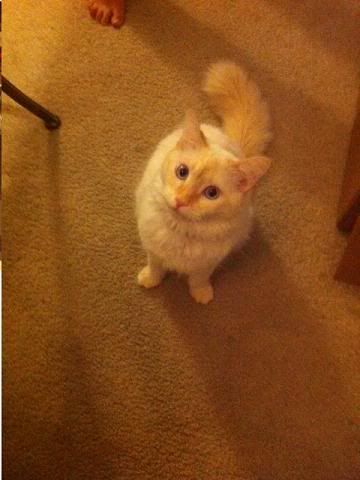 GTFO, DEVIL. Don't let her cuteness fool you. She's evil.
Tomorrow I'm going to Houlihan's for a career-related thing, so my next post will include my menu plan, as well as a recap of today's food and exercise progress.
A victim of what, you may ask?
Current Mood:

sleepy
(
Food/Activity Log: 11/10/2011
Collapse
)
(
Food/Activity Log: 11/11/2011
Collapse
)
I went abso-frigging-lutely crazy yesterday and I honestly have no idea why, other than sushi sounded good and for some reason, I had to eat everything in sight with sugar in it. It was seriously an awful food day, and looking back I'm pretty irritated at myself. But I am grateful I was adamant about counting everything, especially the bad decisions. Today isn't shaping up to be amazing either, but I did get another 5K run in, which I am happy about. I am going to work on being extra mindful at the park tomorrow, because I know I can't really let go too much if I still expect to lose. And damn it, I want to lose. I already have some snacks packed up and ready to go, so I'm optimistic I'll be able to handle it.
This entry is going to be brief, since I'm about to start making dinner, but I felt like I needed to own up to my crazy Friday. If anyone has any words of encouragement, they'd be much appreciated. I don't want to go back on a downward spiral - forward just seems such a more appealing direction.
Current Mood:

okay