There have been so many changes in my life over the past few months it's not even funny. Three stand out the most, so I'll outline those briefly.
The first is the greatest news: Josh asked me to marry him on April 19, and I said yes! The first photo below isn't THE moment, but we had to reenact it for the camera. :o)
(
More photos + the proposal story.
Collapse
)
It was, hands down, the best day of my life. Josh and I have been through a lot together, and I can't imagine spending my life with anyone else. I'm such a lucky lady to have this man. He's been my world for a long time, and I'm so excited to take this next step. We've already looked at one venue and are going to look at a few more over this next month, so we'll see. Our wedding date is set: 12/13/14. Which is going to be a very competitive date, so we probably need to book a venue sooner rather than later.
The next new huge thing in my life isn't as awesome, but definitely has a silver lining: I lost my job, a week before Josh and I got engaged. My company eliminated my position. It seems like a terrible thing, and in a lot of ways it is - I was making some great money, worked with some wonderful people, etc. But technical writing isn't what I want to do with my life, and I think I truly needed this push to have the guts to start pursuing something else. I also know my company kind of knew that. At any rate, I've been pursuing a few jobs and got an offer yesterday that I'll go into more detail about after I accept it, but I've mostly been taking on freelance editing jobs through elance.com. And you know...I've never felt as fulfilled doing anything else for a job as I have taking on these projects. Each time my bid for a project gets accepted, I feel like I get a chance to show my stuff and make some money doing something I'm not only good at, but that I truly enjoy and is going to help an inspiring writer on their path to being published. It has been amazing. In the future, I'd really like to pursue doing that full time. My former co-worker Ray is currently helping me put together a nice online portfolio, which I think will help get me some more jobs, as well as maybe get me one step closer to a dream copywriting job ::coughDISNEYcough::. Honestly, I have a lot of possibilities and opportunities on the horizon...and while the type-A part of my personality just wants a concrete answer, the other side of me is grateful for the chance to kind of reinvent myself. So we'll see how that goes. I'm sure I'll be posting a lot about my career adventures here.
And last but not least, the topic of my weight looms. I'll just go right out and say it: I'm out of shape. My clothes aren't fitting. I'm hovering around 140 and I can't stop eating. :[ It really, really sucks. I'm using food as a comfort mechanism and allowing others and my environment to dictate what I put in my mouth, and I really hate it. This is not the Jen I like looking in the mirror at. This makes me feel like a very defeated Jen, and old, fitter Jen wants to shake current Jen into really understanding and embracing why health and fitness are so important, and why it's worth it to make sacrifices and run when I don't want to and not eat that chocolate bar, even if it's only 200 calories. I really, really miss feeling like the trade-off of feeling fit, energetic, and healthy was worth giving up junk and foregoing sleeping in...but I haven't had that feeling in a long time. I try for a few days, have a bad day, and give up completely, taking one step forward and five steps back. I'm still working out, but not nearly enough to even out the crap I'm shoveling into my mouth. I'm completely controlled by sugar...again. It's very, very hard, and I keep waiting for the day when something inside me will just SNAP again. But it hasn't happened in a really long time, and I just want to know how to get back there.
I'm hoping to be back at goal by the end of the summer, but to get there I know I need to really be committed and stop giving excuses for eating shit that no one is force-feeding me. I need to tell myself no a LOT more, forgive what I've done to my body, and move on. I'll post my weight stats on Saturdays, since that's going to be my weigh-in day. I've been "back at it" for a couple weeks now, but as you can see by looking at my
Get-Fit Plan
, that isn't saying much. I've been doing OK on my workouts (click
here
for my Workout Plan), but still not as well as I'd like. I'm in my second week of a one-month membership I bought through Groupon at this gym in Winter Park called Legacy Fitness. My friends Abby, Jen, and I joined. I have, surprisingly, been LOVING it. The classes (Body 360 and Cardio Kickboxing) I've taken have been very difficult, but something can be said about the amount of stress relieved from punching and kicking the crap out of a punching bag. I'm dead tired afterward, but it's worth it. I'm going to go three times this week.
I'm in Ellijay, Ga. right now visiting Yurani. Her brother graduated high school today, so she's in town. I drove up Thursday. It's been exactly a year since I flew to Denver to see her and Benson. Benson is so big now. He just turned two in April and is as adorable as ever, albeit a little more annoying now. :p He was almost ready to walk a year ago; today, he's running everywhere. It's crazy how quickly time flies.
I think that's enough for now. I really want to start blogging on a more normal basis and getting back into eating well and working out. The happiness and fulfillment I used to get from those things were so much more than what I get from eating a ton of bad food, and I'm determined to find my way again.
Hi guys.
Current Mood:

hopeful
Anyway, here they are:
Brooks Adrenaline GTS 12
- in PINK! They will match my KT tape and my iPhone armband. Hooray. They should be here Tuesday, just in time for me to test them out a couple times before my Galloway Miracle Mile. I'm sad because I don't think I'll get in Kitzzy's training group. :[ Their MMs are between 8:30 and 9:30, and I think that fastest I've ever run a mile in was somewhere on the upper half of that. And my shin may make it even more difficult. Sadness. But I'm going to try. And I can always improve my time and join later, so that's good.
I'm only going to run a maximum of two miles at a time until the Galloway program starts - really can't risk the injury. Bleh. My endurance has been pretty good too. I did a 5K distance yesterday and, shin pain aside, it went really well!
In other exciting news,
I lost .6 lbs. this week
. Not quite on par with my 1.5-lbs.-a-week-for-the-next-six-weeks goal, but for being in a different state the majority of the week, I'll take it. Yurani and I hiked for four hours on Sunday, and ran a couple times, but damn, the air in Denver was THIN. I was so stoked to run because the weather was cool and dry and sunny and gorgeous, but as soon as I started I felt like I was struggling five times as hard to regulate my breathing. It was a pretty big downer, but I think I pushed myself a reasonable amount. I covered two miles Thursday, one Saturday, and then the 9.4-mile (round-trip) hike Sunday. I actually don't have any photos from the hike - I think she has a couple on her camera - so here's a photo of us in front of a wilderness sign with her baby, Benson.
Fun times. I miss her already. But yeah, we ate pretty well. I ended my week using all of my WAPPs and APPs, but not one over. That's a victory to me! She is doing WW too, so we helped each other. We treated ourselves to a few things - most notably, graham-cracker and strawberry-cheesecake ice cream from LIK'S, which I will visit again in my lifetime, so help me). It was ridiculously good. And I had a huge delicious sandwich from this place called Snarf's the night before I flew home. Yummm. But for the most part, it was a lot of this:
I special ordered everywhere we went. Had salads, sushi (and not fried, cream-cheese-filled kinds either), lots of eggs and yogurt, tons of fruit, etc. Very happy with what I was able to accomplish, and I'm glad I am down in weight after two weekends straight of being out of town.
Tonight I made that spaghetti-squash dish again that I told you guys about before, but I remembered to take a photo this time:
It's nothing super fancy or exciting, but it is half a spaghetti squash, 1/2 tbsp. olive oil, salt, pepper, garlic powder, onion powder, and four slices of turkey bacon. Yum! Filled me up, and for only 4 PP.
Since it's the end of the month, I'll go ahead and post my calendar:
Not as good as ~February 2011~, but about the same as ~January 2011~, so I'll take it. In the past couple of weeks, I've only gotten TWO red stickers. That's awesome to look at this way. Next month will be better. I'd love to aim for five red stickers or less. That'd be amazing.
Josh and I are going on a date to White Wolf Cafe Saturday night. We got a great deal: one appetizer to split, one entree each, one glass of beer or wine each, and one dessert to share for $39 from Travelzoo.com. Originally $81 - yay!
Here's
the menu. My plan is to get the ahi tuna appetizer to share and skip the sauce (Josh already agreed to get this, so yay - I know he's going to be tempted by those crab cakes, as am I). For my entree, either the catch of the day or the grouper blackened, with double vegetables for a side, and I'm going to ask them not to cook any of it in butter or oil. And I'll have a glass of white wine of some kind. I'll probably let Josh pick the dessert. I kind of hope he picks the Peanut Butter Brownie Ice Cream Pie but at the same time, I don't. Lol. That's six delicious words in one dish, and that spells trouble. We may go downtown afterward as well, so I'm allowing myself the flexibility of using the
APPs I plan to earn during the week (10)
, plus 19 more if I need to, so I can have 30 WAPP left by the end of the week. I really, REALLY want to hold onto those 30, but I also want to enjoy myself Saturday evening. So that's the plan.
Monday, I'm going to do yoga at my co-worker Liz's house and she's making a healthy dinner. I'll have to remember to coordinate with her beforehand to make sure I know what's she making, at least. I told her I'm sorry if I'm crazy and bring my food scale, lol. She understands.
Time for bed. I can't hang past 10 anymore these days. I blame Josh. Night all!
My title refers to the fact that my shin is still royally effed up. The KT Tape is helping, but there is one area near the bottom of my right shin, on the inner part of my shin, that keeps flaring up like crazy. I was going to go to a walk-in orthopedic specialist after work today, but my co-worker told me he had the same issue a few months ago and getting new shoes solved it immediately. Soooo that's what I did. Considering my current shoes are over a year old...it was probably about time. You're supposed to replace them every 300-400 miles so, um, oops. I'll have to keep track on Daily Mile once I start running in the new ones.
Current Mood:

cheerful
In case you can't tell, I'm not the hugest fan of flying. I have flown a lot in my life - I mean, I went to flippin' Australia - and I'm still not accustomed to the bumpiness. If possible, I always choose a window seat so I can watch and make sure we're not, in fact, plummeting to the ground (FYI, we're always just turning or doing nothing and I'm insane). I've cried a couple of times in flight...specifically, when flying back from Colombia a year and a half ago. It was pretty bad. Hopefully this isn't a repeat occurrence. I blame
Final Destination
. The original. With Devon Sawa, aka Casper. None of this 3D BS.
Anyway, irrational fears aside, I lost 1.6 lbs. this week
and ate two doughnuts and half a Panera bagel with cream cheese, don't judge me
! Which, while not the two pounds I was hoping for considering my first week of recommitting usually yields a pretty huge loss for me, is still a victory - especially considering I was out of town this past weekend and was just getting back into running. Plus, it puts me right on track with my six-week goal, so I'll take it. My co-worker Jessica drove me to my meeting so I could weigh in, because Violet Wendy "VW" Beauregard (my Beetle) is out of commission at the moment. Bitch needs a new battery, like, yesterday. I need a few other things done to her too, so Josh is taking her to the VW dealership on Saturday. What a great boyfriend.
Speaking of great boyfriend (and this doesn't relate to health and fitness at all so scroll past if you don't curr, I won't be offended), Josh dropped me off at work this morning and there was this creepy 20-something dude loitering in the lobby of my office building. I saw Josh side-eye him, and Josh left and the dude is like, "Is there anywhere to get coffee in here?" I was like, "Er, second floor cafe, but I don't think they open for another 15 minutes." He said OK and followed me into the elevator. Looking back, he totally could have knifed me. I was on my guard though and it was only one floor, so I figured I could handle five seconds. He goes, "Is your boyfriend a security guard at the building?" WHAT. I said, "No, he works for Sam Ash - he has to wear all black." And then he got out and that was it.
So I went up to my fifth-floor office, put my purse down, got some coffee and my half bagel, had a little chit chat with one of my co-workers, put my lunch away, then went back to my desk. I pulled out my phone and saw that I had FOUR missed calls, a text, and a voicemail from Josh. I seriously thought he got in a horrible car accident or something. The text said, "Where are you?" and the voicemail said something along the lines of, "Hey sweetie. Er, didn't like the look of that dude who followed you into the elevator. It's not like you not to answer...please call me back."
So I called him immediately and apologized profusely for not picking up, and he was like, "Well...I'm downstairs, back at your office." WHAT A GOOD MAN, OMG. I'm so glad I have him looking out for me. He said he felt kind of silly but I assured him he did the right thing and I thanked him. Felt so bad for making him be late to work, but I am such a lucky lady and I just wanted to share. Made me feel very loved and safe. Crazy ass dude...he was definitely super skeezy.
So today aside, I just wanted to share that I've gotten either blue, green, or yellow stickers every day for the past nine days! That's a big deal for me; I've been redding it up lately. No bueno. Just a recap for the newbies or those who
haven't memorized this crap
have forgotten, these are what my stickers mean:
Blue (these are like ~Platinum):
- stayed within DPP (Daily PointsPlus)
- worked out
- didn't use any APP (Activity Points Plus)
Green (aka Gold)
- stayed within DPP and used only banked APP
OR
- worked out and used fewer than 10 WAPP (Weekly Allowance PointsPlus)
Yellow (aka Silver)
- used fewer than 10 WAPP
OR
- worked out and used 10 or more WAPP
Red (aka Bronze/poop)*
- used 10 or more WAPP
*I can't get a red sticker on days I work out.
So there you go - that's how I determined what kind of day I had. The first half of May is filled with a lot of poop days, but at least I tracked, I guess. I remember my calendar from February of last year...damn, that was an amazing calendar:
Four poop days AND A CONNECT FOUR WIN OF BLUE STICKERS FOR TUESDAYS AND GREEN ONES FOR WEDNESDAYS. We'll ignore that I was extra motivated on my days before and after weigh-in on that one, because it's amazing. Yeah...I need to channel some February!2011 energy like whoa. Maybe I can ask Josh to break up with me temporarily so I can get all post-breakup motivated again. Hm. It's tempting. If we weren't moving into our own place in six weeks, I'd probably consider it. :p
I made a delicious dinner the other night and I need to share it with you. It's straight out of pregnancy brain, which I don't have, obviously (though I did have a pregnancy dream the other night; I blame my friends who are popping out offspring left and right, aka all of them). I made a whole small spaghetti squash and mixed the "noodles" with 1/2 tbsp. of olive oil, garlic powder, black pepper, a little salt, and a little onion powder. Then I added - wait for it - four slices of crumbled turkey bacon. It sounded delicious, and it was. I think I was inspired by the much-more-caloric carbonara dish Josh got at Ray Romano's Macaroni Grill when we went for Beth's bachelorette dinner. Obviously his was more heavenly, but mine was great too, and the trade-off health wise was definitely worth the amendments. And it was only 4 PP! FOUR. For a huge bowl of "pasta"! You can't beat it. If you wanted to add some peas for a more authentic carbonara dish or a little Parmesan cheese, that's still only 5-6 PP for dinner. Add a Fiber One yogurt and a side of fruit and seriously, 6-7 PP for dinner is like magic for me. Maybe next time I'll make it with curry powder. I wish I'd taken a photo so this could be more than a wall of text explaining it, but alas. Next time.
I am a little over a quarter of the way through Bob Harper's book. I like it so far. Can't honestly see how someone super overweight and set in their ways can take all of his advice seriously (at least, all at the same time), but I respect the things he says. IDK if I'll be able to give up Stevia in my coffee, though, Bob. I gave up Splenda - isn't that enough for you? :[ He would shake his head at me, force me to do push-ups, and point and laugh. I don't blame him...I'd do it too. Aw, he wouldn't really. He's way too nice. I...stand by the claim that I'd do it, though. /Slytherin
Yurani and I are going running (5K distance - we'll see if my lungs can take the unfamiliar altitude) in the morning, then at least once more while I'm here - hopefully 4 miles Saturday or Sunday. Friday I want to do some more core work (and triceps too, maybe), and then I'm at her command for hiking. Good thing I remembered to bring my hefty new stash of hot-pink KT tape.
Hoping to make a grocery run tomorrow and do lots of activity. Neither of us are particularly rolling in unlimited spending money, so I think that will help get our asses outside. Not that she needs any motivation - in fact, she has enough nature love for the both of us and anyone reading this entry, and she will push my ass on these hikes. I am a self-proclaimed indoor girl, though, as we all know - to the point where if I fell off a cliff while hiking, you guys should not be surprised, haha. Pretty mountains!? No, give me Netflix and a treadmill and I'm good. I can't help it...I love my air conditioning. :[ I'm such a lazy ass sometimes. Hoping this cray summer will snap me out of my BUT IT'S TOO EARLY AND HOT AND HUMID AND I NEED TO CATCH UP ON SEASON 4 OF HOW I MET YOUR MOTHER WHINE COMPLAIN. Though I just realized I forgot bug spray. Damn it. I'll have to remember to pick some up.
This is getting tangenty (forgive me and my Starbucks, for I knew not what I was doing), so I think I'll end it and go watch me some Netflix! Hope to blog a couple times from Denver. We shall see.
Hooray, a distraction from turbulence! Well, it's not turbulent at this moment per se, but given the current Denver weather report...maybe I should've saved my laptop juice for an hour or so from now. Oh well. I will be there in a couple of hours and get to see Yurani and Benson and take a shower and have some sleep.
Current Location:

On a plane

Current Mood:

chipper

Current Music:

Foo Fighters - "Everlong"
But I am super stoked to report that I planned, tracked, and even exercised while I was in Jacksonville. Whaaaaaaaat!? Craziness, I know. But I'm determined to meet my six-week goal, and if I have to be a pain in the ass to do it, well...sorry, world. I'll break down my weekend as best I can...
*******************
FRIDAY
I did really well - used the 3 APP I'd earned on my Thursday run as well as 4 WAPP, but a Saturday morning with 45 WAPP still in my bank is a big victory for me at this point. I made some great decisions on the way up to Jax. Josh and I stopped at Publix to pick up some flowers for his mom, and I grabbed a Chobani Greek yogurt, some crab (well, krab, hah) sticks, and a banana to have for dinner. Mrs. Haupt had also stocked up on a nice bowl of fruit, which was so great. I nursed that the entire weekend, as well as a few La Croix sparkling fruit waters instead of extra wine.
Speaking of, I also only had one glass of white wine Friday night. Normally when I go up to Jax, I'll have two or three minimum the first night, because the Haupts do love their wine (well, Josh and his mom do, at least). Hooray Friday!
SATURDAY
I came prepared for breakfast. I had packed a packet of lower-sugar oatmeal, so I had that with some coffee (I even brought Stevia packets...what has come over me?), almonds (which I also brought, which was unnecessary since they had the same kind at the house), and a banana. For lunch, we actually ended up going to Bahama Breeze and not Mimi's as originally planned. Buttt I shared a crab stack appetizer (3 PP for 1/2!) and got a salad with romaine, grilled chicken, fruit, avocado (and they didn't skimp, either, yay), and vinaigrette on the side, which I counted as 12 PP. I did have one mini cupcake from Sweet. How could I not? The only other location aside from the one next to my house is in that shopping center. Luckily, the quality was up to par with Orlando's location. ;p
Josh and I were supposed to get up Sunday and run, but I know us and I knew we wouldn't. It was so hot this weekend, and I knew I'd want to sleep in. Plus, my hair needed a serious wash ASAP, so I asked Mrs. Haupt if I could use her treadmill and she said sure, and showed me all the functions and everything. So I got my 2.5-mile/30-minute run in, and did 150 crunches afterward too. My upper abs hurt a lot today (and yesterday, for that matter), but it's the good kind of hurt. :p
For dinner, the guys cooked a really yummy shrimp dish, with gnocchi and a creamy delicious sauce. I had a bite or two, but Josh was amazing and made sure I had 3 oz. of seasoned grilled shrimp, plain, for me. He also made scallops but made mine without the sauce he'd concocted. Best boyfriend ever - I'm very grateful he is so supportive. Not sure what I'd do without him! I also made that maple-balsamic Brussels sprouts dish, and everyone loved it, which was great to hear! I had a couple glasses of wine and a tiny slice of key-lime pie as well, so not the BEST day, but I was very mindful and it could've been much worse. Plus, I exercised, so I didn't feel too bad. I definitely enjoyed every bite/sip.
SUNDAY
Sunday was a little bit worse than it should've been, considering, but I still only went over by 6 PP for the entire day - and that was after eating out twice. We went to Mellow Mushroom for lunch, and I got a huge salad that only came out to 8 PP for the whole thing. For dinner I had Taco Bell - 8 PP again, for two Fresco chicken soft tacos, which are my go-to food there. I snacked a little more than I should've, but I'll take it.
*******************
So right now I have 18 WAPP left. After my strength training tonight and run tomorrow, I should have 25 WAPP left. My goal for Wednesday is to leave the rest of them untouched. I am really hoping for a 2-lb. loss this week, but we'll see whether the scale agrees. Regardless, I'm proud of how I handled this weekend, and very grateful for the willpower I somehow dug up from the depths of my crazy.
As mentioned, I have started incorporating strength exercises back into my routine. It's only been one day, so I don't deserve any credit yet, but I think I am going to focus on core and arms during my non-running gym days (likely Mondays once my marathon training starts and I'm doing long runs on Saturdays instead of Sundays, like it is now). I find that my endurance increases so much when my core is strong, so I want to make sure I get those exercises in. I will need them sooner rather than later. I can't believe training starts in less than three weeks. Lord. I better start mentally preparing myself now.
My shin started acting up a little bit after the treadmill run in Jax. Luckily the pain subsided fairly quickly and wasn't too severe to begin with, but my KT tape came in Saturday (yay), so I bandaged my shin up again last night. I'll probably wear the tape for a few days and bring a couple pieces with me to Denver just in case. I know Yurani will be kicking my ass with running and hiking, which I desperately need, so I have to come prepared. I leave Wednesday night. I told her she needs to whip my ass into shape so I come back to Florida under 130 lbs., and she said, "Let's do it." She is super active and does WW as well, so I'm grateful for this trip in even more ways than being able to see her and Benson (her baby). ♥ Can't wait. Maybe I can even get through the plane ride without knocking back two vodka Coke Zeroes this time. We shall see.
I'll end this entry with some great news about my brother. He called me late Saturday evening, but I didn't pick up because I was asleep. Sunday morning at 9:30 a.m., he calls me again just as I'm opening my eyes. Now, my brother is not a morning person. You think I'M not a morning person? I pale in comparison to this kid. He will sleep until 2 p.m. without batting an eyelash. But no, he calls me at 9:30 (which is 8:30 his time, mind you, in New Orleans).
Me: "WTF are you doing awake?"
Bobby: "I just got back from my 2-mile walk."
Me: "...WTF are you doing awake."
Bobby: "IDK, I feel motivated."
It was really cool to hear that. Made me smile a TON that my brother was not only getting up early after what I'm sure was a busy night at work (he's a chef), but that he was doing it to EXERCISE. To many of us, a walk isn't a really big deal, but it is a HUGE deal for my family and for my brother in particular, and I know he is really pushing the walls of his comfort zone to do something different with his life. He told me he got the scale I sent and weighed himself, and that is goal is to get down 78 lbs. I told him that's great, but maybe he could make a smaller goal at first (28 lbs.), then go from there.
He also told me he only had one meal Saturday, and I was like NO, BAD, EAT THREE MEALS, haha. I explained about metabolism, and how his body needs three square meals...how breakfast is the most important meal of the day, etc. He was talking about going to breakfast with my mom, so I texted him a list of "BFF" menu words (egg white omelet with veggies, fresh fruit, plain oatmeal, turkey bacon, water, etc.) and a list of "enemy" words (cheesy, hash, country-fried, hollandaise, loaded, etc.). They actually ended up going to Applebee's and he got a Weight Watchers dish and water. Progress! He is off today so I'll probably give him a call and see how's he doing, but I don't want to nag - he has to make the effort.
I'm still not holding my breath though. Not because I don't believe in him (I think it is pretty clear that I do), but because a.) I don't want to jinx it (main reason), and b.) I know it takes time to really adapt to a new lifestyle and know that you have the power to make such a huge change. But I'm extremely proud of him, and I will say I have never heard him talk like this before. He is smart and capable, and I hope this is a sign that he truly realizes that he has all the power in the world to be whatever he wants to be, physically and mentally. In the meantime, I will work on not being the nagging older sister, and instead be a reference tool for him. Hope I can do that well.
My LJ buddy Becca (
beccakicksbutt
) and I are going to be text buddies for some added accountability! I sent her my workout schedule, so we are going to nag each other every day to make sure we're staying on track. Any extra motivation/push will only help.
This post has gotten long and cray cray enough. Hope you all had as fulfilling a weekend as I did!
I know my title makes no sense to the normal brain, but for me this was the first weekend I have actually TRIED to control myself in terms of food and exercise in a very long time. Like, genuinely tried. Not "Oh, I was good the first half of Friday, LOL REST OF WEEKEND FAIL." And it was extra difficult, because I was out of town with much more limited resources than I have when I'm home.
Current Mood:

bouncy
First off, I have a
12-week plan
to get to goal, as well as a six-week plan to get back down to 125 lbs. Which means I need to lose an average of about 1.5 lbs./week in the next six weeks to do it. This is going to be hard, but I am going to take it one day at a time and do what I can to get there. I have been doing extremely well the last few days, and I want to keep it that way. Knock on wood.
So, I haven't mentioned it yet, but I went ahead and signed up for the 2013 Walt Disney World Marathon! D: / :D I am super nervous. At this point, much more nervous than excited (hence the scurred face before the happy one), because I feel like physically I haven't really earned the right to the excitement yet and that being like LOL I'M RUNNING A MARATHON, GUISE would be jumping the gun a bit. Which I'd barely have the energy to do right now with just getting over these shinanigans (see what I did there?), but more on that in a bit. But yeah...I mean, anyone can pay for it...it's the training that is going to test me. So I'm trying to be humble and if I do great, great! If I struggle a lot...at least I didn't say I wouldn't. :p
The marathon is having its 20th year, so this will be a good year to do it! Here's the race course - just released yesterday - with a guided tour by Mickey Mouse himself:
I also signed up for the
Galloway Marathon Training Program
I told you guys about a while ago. My glass-half-empty side is saying "OK sooo three more Saturday mornings you get to sleep in until January?" But my glass-half-full side (yes Kitzzy, I have one, even though it's buried!) says, "Hey, maybe you'll be a morning person after all!" I mean, my plan at the moment is to use the early-Saturday runs to get my ass in bed at a reasonable hour on Fridays and then set the pace for the rest of the weekend, so that's good. It'll be nice to come home after the run, eat, shower, go back to bed (don't judge me), then wake up and be like WELL DAMN, I'M GOOD ON EXERCISE FOR A COUPLE DAYS. I will never say I love exercise, guys. Mark my words. I love feeling energized and being thin and healthy, but I love the indoors too much. I actually do hope that changes one day. We'll see.
Anyway, re: marathon training...I am excited about this journey, but very, VERY intimidated. You will all probably be seeing many expletive-laden entries come June...but hopefully when the heat/humidity lets up a little and my body gets used to running longer distances, I won't whine as often or as...loudly. Hah.
Now for the shinjury (I slay me sometimes) update...I am happy to report things seem to be all good! If I sprint, I still feel a little pain...but the slow runs actually seem to be helping. I did a 2-mile treadmiller on Tuesday and the same distance outdoors last night with my co-workers, and while my endurance has suffered over my two-week hiatus, my shin held its own. I should have some KT Tape coming in the mail any day (hot pink, of course)...I have a feeling it will not be my last order. Thanks again for introducing us, Kitzzy!
I bought Bob Harper's new book,
The Skinny Rules
, for my Kindle today.
I read a few chapters on lunch today. I love Bob - he has a way of communicating that is very real, down to earth, and honest. He is firm and straightforward but appealing - he makes you want to make him proud, lol. His rules are pretty common sense, but the kind of things I usually whistle and turn my head about - i.e. drink a crap ton of water, stop with the artificial sweeteners, eat protein at every meal, stop being a fast-food junkie. I hope to finish it this week. I'll keep you guys posted.
No updates on my brother yet. I sent him a scale and a food plan. I think he may be going shopping this weekend, but I am not going to meddle. He knows where I am if he needs to reach me.
One more quick thing - going to Jax this weekend for Josh's mom's birthday. We are stopping at Publix tonight before we get there, so I have what I want to get for dinner planned out, plus some PP budgeted for a glass of wine. Tomorrow I believe we're going to go to this place called Mimi's Café for lunch. Luckily it's a chain and I already have my meal planned out (thank the lord they have more healthy options than just salad). At night, Josh and Jeremy are going to cook dinner. Not sure what yet, but I'm going to make that WW maple-balsamic Brussels sprouts dish that Josh and I love, so I know I'll at least have that to fill up on. Sunday we might go to First Watch for breakfast, and I have an order there I always get that fills me up and is easily countable. Oh, and Josh and I are going on a 2.5-mile jog in the morning beforehand. I hope everything goes as smoothly as it sounds, lol. At the very VERY least, I want to hold myself accountable.
Hope you guys all have a great weekend!
So I owe you guys an update because I have things to say.
Current Mood:

determined
Something really pushed me to start updating again, after I've been so lazy about it.
My younger brother, Bobby, is 25. He has been overweight almost all of his life, and has always just sort of accepted it as something he can't really change, so why bother? In the past, I have kind of helped steer him in the right direction, but he was never really ready. Because let's face it: anyone who is successful with weight loss has to be fully ready and committed. He has never really come to me out of the blue saying he wants to change his life. I've always just kind of suggested and hinted and hoped one day he'd get it. Not that I'm perfect by any means, but I think I have some good solid values about health and fitness, even though I'm not always great at sticking to them. Otherwise I wouldn't be here, right?
Yesterday, I got the call I have been waiting to get for years - not the call that meant I was needed, but the call that meant my brother wanted to take care of himself. I asked him if he wanted a quick fix, or if he wanted a gradual lifestyle change, because I would only really be able to help him with the latter. He said a gradual change. He asked me to help him come up with a meal plan and with shopping lists, and told me that now that he is living with roommates and is finally kind of stepping outside his comfort zone, he wants to change his life. Immediately after that call, I texted asking if I could blog about it, and he said yes.
I worry a lot about my family's health, because I love them dearly. And to see my brother - someone so young and capable - suffer with issues that are complete within his own control and not being able to do anything about it is extremely hard. And I know he has the strength to make some changes. I wrote him a really long e-mail this morning with a few days' worth of meal plans and a shopping list, along with a lot of great tips I've picked up from people, articles, etc. over the years and some words of encouragement that have moved me forward when things are hard. I do hope he sticks with it. I have tried to reiterate that it isn't going to be easy, so I hope he understands that the change will not be overnight.
Anyway. That reminded me of why I'm doing this. It means a lot to me when you all comment and encourage me...more than you know...but for my brother to come to me and tell me this kind of stuff, it's a whole different feeling. I am excited to work with him. Only wish I lived closer. When I was visiting, I told him that if he does the same stuff he's always done, he'll see the same results he has always seen, and that the only way to succeed is to step outside your comfort zone. Deliberately. I think he heard me, because now he is living with people he didn't even know a week ago. He never would've done that before. I'm really proud of him.
Onto the shins: the bottom of my right shin has been really hurting me the past couple weeks. It was starting to worry me that it may be a stress fracture or something more severe than shin splints, so Kittzy let me borrow a couple of pieces of this stuff called
KT Tape
. I applied it last night, and it seems to be working fairly well thus far. I will keep you guys posted. Thank you, Kitzzy!
Have to make the rest of this quick - I promise I'll write a more substantial entry at some point in the near future (but not too near, as it's my friend Beth's bachelorette weekend). Finally, I wanted to give a special shout-out to a few people:
Laura - You're amazing. Truly, you are. With everything you are handling right now and always, you are still, as we say, kicking ass an taking names like nobody's business. And not only that - you make time for me, which I haven't reciprocated lately and I want that to change. I love you so much, and I don't know what I'd do without your support and true friendship.
Kitzzy - You are my running fairy godmother. Every time I am in a bind, have a new problem, need a swift kick in the ass, etc., you are on it. I owe you so much, and I really appreciate how much you have been there for me over the past couple years as I've struggled to find my runner identity.
George - See above! :p Seriously, you're an amazing science nerd of running. You are eternally optimistic and I need that so much. Your fire is palpable, and I'm so glad I know you. You are always there to give words of encouragement and Courage Wolfs, hehe, and I am more grateful for it than you know. You get it.
Danielle - Your recent postings have pushed me to start updating again too, and I am so motivated by your drive and determination, and unwavering willingness to make health and fitness a big priority in your life. Maybe one day I will try Crossfit too. Thanks for being a good and supportive friend. I love you!
That's all I've got right now, because I have to run. I love you all. ♥ I'm still alive, I promise!
First off, let me just reiterate what I've said in the past: when you don't see me blogging, it's because I've put my health and fitness on the back burner in lieu of other things...usually just pure laziness. This stretch of over a month is no exception. I have been eating pretty much whatever I want. I mean, not completely, and I have been running (until recently, as my shin is fairly messed up at the moment, but we'll get into that later). The past couple days have been great (first two green stickers in 19 days, wooo), so I know my healthy side is still rattling around in there somewhere. I'm still working on extracting her fully, so I appreciate you guys sticking with me.
Current Mood:

optimistic
I weighed in today and
lost two pounds
! I'm very happy about that, especially considering the wedding Saturday...and the half jar of pumpkin butter that mysteriously disappeared since. But I'm proud of my loss, even though I'm only a little below where I started a couple weeks ago. No matter - moving forward.
I'm realizing something, and maybe those of you who have followed my journey for a while have picked up on it as well. I am getting afraid of that 120s line again. Last year when I was training for my first half marathon, I
went through the same thing
. I still have this issue - where the 120s are scary, and when I attain them, I'm allowed to get lazy and give up.
People tell me, "Well, maybe you're at your comfortable weight." Lol gurl, no. When I was running three times a week and eating healthy, my weight was going down consistently. When I started dating Josh and stopped working out consistently and started going out to eat a lot again, THAT'S when it stopped - not randomly because my body just stopped losing. But lately, it's like, when I see 129, I psych myself out...and I honestly don't know why. I have no clue why I'm so scared to charge forward full speed. If I ever get to 140, it's so easy to focus. The weight comes off a little easier there, but I also give it so much more effort. I need 130 to be my new 140. There has to be some way to flip that switch in my brain.
Maybe inside, since I have never gotten there, I just honestly believe that I can't. So if anyone has any suggestions on how to allow myself to see into the murky unknown, I'd love to hear them. I'd like to get under 130 next week, and I really don't want to have to sacrifice that because of my own fear and insecurities. Help a sister out!
Blake, Katlyn, and Mels are hosting a Passover Seder Friday night. Luckily I know what is on the menu: brisket, chicken, matzo ball soup, asparagus, sweet potatoes, Brussels sprouts, fruit salad, wine, aaaand...mint brownies. Which I LOVE and will definitely have one of (but I am determined to make it just the one!). I asked Mels to please resist drowning the vegetables in butter/oil and putting the fruit in any kind of sugary juice, so hopefully I get my wish, haha. But I have some healthy choices, so I'm not too worried. Plus, I am aiming to earn 20-25 APP this week, so there's no reason I shouldn't be under 130 next week. Unless I sabotage myself, which I am really going to work on this week. I should actually probably seriously start taking up yoga.
The Seder is really my only foreseeable challenge this week, thankfully. My next few weekends are pretty free (read: devoid of huge events where I will be surrounded - nay, bombarded - by delicious food), aside from races. Which not only distract me from food, but themselves contribute positively to my fitness goals. I have THREE races this month: the Corporate 5K (a week from tomorrow), the Earth Day 12K on the 21st, and the Run for the Trees 5K the 28th. I haven't signed up for the latter yet, but I'm pretty sure I'm going to do it. We'll see. I may scrap that and do a long run that day instead, since I fly out to see my family early the next morning and my amount of time/resources will be more limited in New Orleans.
Speaking of races, Katlyn is amazing and is going to put my marathon cost on her Disney credit card tonight, so I get a discount/early registration and she racks up Disney Dollars. Woohoo! $135 instead of $150. $15 is $15, man.
I'm nervous! Once I pay, that's it - I'm locked in. Done. Stuck. Fated. Ugh.
Quick NSV before I go - my work ordered in lasagna for lunch and I resisted and ate my salad and yogurt. Sup. GTFO CHEESY, ARTERY-CLOGGING PASTA DISH.
This is going to be quite a year. Hopefully I'll be laughing about my 130s mindset in a few months' time.
I tried to write my subject like a news headline today. It kind of failed.
Current Mood:

pensive
First off, my friend Danielle got married! Woo hoo!
(If you can't view that, I'm sorry...if you
add me on Facebook
, you should be able to! :p)
She and her husband (!!!) John are currently on a fabulous two-week honeymoon tour of London, Paris (SO JEALOUS), and Barcelona. The wedding was beautiful and I got emotional. I cry at everything. But it was such a great night, and I'm so happy for them. ♥
Food-wise, this weekend could have gone a lot worse than it did. Granted, I didn't count everything I ate at the wedding, but I didn't go crazy. I had a plate
and a half
of dinner, which consisted of Manchego-stuffed chicken, flank steak, mashed potatoes, grilled root vegetables, and bread. It was all really delicious. I also had three drinks (one beer, a vodka and Diet Coke, and a bloody mary - I chose lower-calorie drinks), one slice of cake, two macaroon cookies, and a white-chocolate mold on a stick that was shaped like the Empire State Building. Oh and some appetizers, i.e. a few crackers, tiny mozzarella balls, veggies in balsamic vinaigrette, etc. Kiiind of a lot of food, but I went in with 42 WAPP, so I think I did OK considering. Yesterday I went a little bit over, but not too bad. Fewer than 10 PP, I believe. And the scale is being fairly forgiving, so I know I can crank out a loss in these next couple days if I keep my eyes on the prize.
My friend Ricky brought me this delicious beast from Trader Joe's in Connecticut:
Within 24 hours, half the jar was gone. This is my life. But it's only 1 PP per tablespoon at least...yeah, not a good excuse, I know.
Today has been going very well so far though. I am making steak, whole-wheat pasta (or couscous...haven't decided yet), and Brussels sprouts for dinner for Josh and me. And I have been sticking to my workouts! Katlyn and I did a great circuit workout Friday (my triceps were sore yesterday, which is a win), and I ran four miles Saturday.
Upon Kitzzy, George, and Katy's
forceful shoving and peer pressure
encouragement, I joined DailyMile! Yay! Please
add me
if you haven't already. I'll be using it to track my workouts from now on so I can view my progress leading up to the marathon more easily. I am still tinkering around with it, but I'm excited to see results and all that.
Sorry I don't have much more to say, but I promise to bring you more ramblings this week! Hope you all had a fabulous weekend.
This entry is going to be very short because I'm strapped for time, but I wanted to give you guys a little update.
Current Mood:

busy
But for example, a couple hours ago, my lovely co-worker Jared poked his head in from the kitchen and said, "Jen...there is a huge amount of cupcakes in here...they are big." I replied with, "No, you are seeing things." So I put off going in to the kitchen to make my salads for a few minutes. Then I finally worked up the courage to go in, and a wave of sugar scent hit me in the damn face. And then I saw these bitches:
So of course, I was like...
The good news is that they're vanilla. Which is delicious, don't get me wrong. But if they were chocolate, peanut butter, chocolate-peanut-butter red velvet, blue velvet, chocolate velvet, or anything else similarly more delicious, it'd be over. Which, speaking of red velvet, my other co-worker Danny brought in a big red-velvet cupcake for this girl whose birthday it was, but she had taken the day off, so he said the most evil words ever: "Oh, well, it's up for grabs if anyone wants it."
To my credit, I waited until the afternoon, only had half, and WEIGHED IT. 8 PP for 2.62 oz. of a red-velvet cupcake with cream-cheese icing. FML. But it was so yummy. If it had been dry, I would've been pissed because I would've eaten it anyway and then regretted it. But it was very delicious, so my regret is minimal. Also, Jared put the other half on my desk a little bit ago. I almost threw it at him. NO CUPCAKES TODAY, DAMN IT.
I am meeting my friend Katlyn at the gym to do some circuit training after work tonight. Last night we went too, and I did a 5K run. Kitzzy advised me earlier in the day to try it in intervals and push my pace harder in the middle to work my body out of its comfort zone because my pace won't improve otherwise. Fair point. So per her suggestion, I did:
1 mile easy jog at 5.0
.25 mile run at 6.3, .12 mile walk at 4.0 (three times)
1 mile easy jog at 5.0
It ended up taking me about a minute longer than usual to cover the distance, but I felt like I got a lot more out of it. I know running intervals and pushing harder during the running portions burns more calories, so I'm all for it. So I've
adjusted my workout plan
to make one of my 5K runs per week be in intervals, one at a steady pace, and then my longer run on the weekend at a steady pace. Again, at Kitzzy's suggestion. She's never steered me wrong before. :o) I'm going to have my work cut out for me if I'm in her marathon-training group this summer, that's for sure. Hoping I learn to love mornings, or at least tolerate them to the point I'm not hating my life.
I am pretty sure I'm running the
Run for the Trees 5K
.
(Kitzzy, P.S. When I searched Google Images for "Run for the Trees 5K", photos of you, your family, and Jason are all over the first two lines. Win.)
My goal is to run a sub-30 5K but that is going to be VERY tough, considering it's only a month away and I'm averaging 34:00-35:00 right now. I am really going to give it all I have, but we'll see. My body may not be ready. Unlike Snape's.
That's for you, Laura bb.
Now, the bad (well, worst, I guess) news: I gained weight. 1.8 lbs. D: BUT...I am down about a pound since my weigh-in already, and trucking forward just fine. I am determined to be down that much and more next week, and not let the wedding this weekend derail me completely. I am not sure what they're serving, but I'm going to have a diet soda or water between each alcoholic drink (I can't go too crazy, anyway, because I have to drive), eat slowly, and only until I'm satisfied, NOT stuffed. I'm pretty sure they're having a buffet, so that will help - big servings of the veggies, not so much of the starches and creamy stuff. I'm going to have to use really good judgment, and I hope the adrenaline from the 4-mile run that morning will keep my willpower intact throughout the night.
I should probably post a photo from the bachelorette party or something.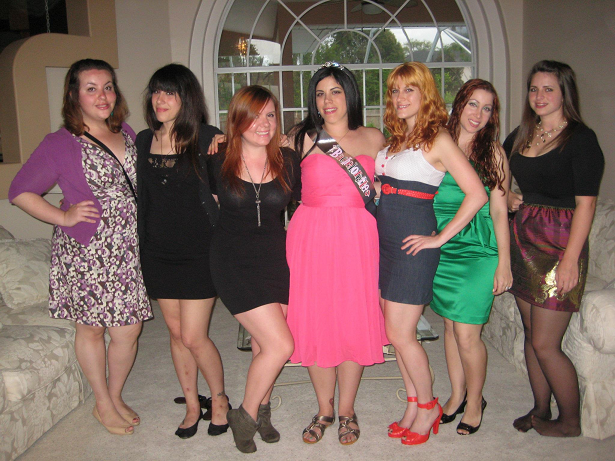 LOOK AT THESE SEXY LADIES. We had a really great time. :o) Lots of great stories to tell throughout the next couple years. Also, those shoes lasted me all of an hour. Sup.
Um, speaking of shoes...apparently I have a
bunion
. And apparently it is so gross that it sparked a
huge amount of discussion
in a post on ONTD (my fave celeb-gossip blog) about Steven Tyler's admittedly more disgusting feet.
But um, what!? I thought bunions were like hemorrhoids on your feet, but apparently it's when your foot bones are wonky in the sense that your big toe points toward your little ones. OK then. I think I only have it on my right foot, so that's good at least. And it's not that bad, and not painful. I asked my mom and she realized she has one too, on her left foot. But she said it's never given her issues, sooo...I'll just keep an eye on it. For a graphical depiction, see the creepy-ass bird photo above. Reduce, reuse, recycle.
Oh while I'm thinking about it, I should post some more cute photos from Josh's and my trip.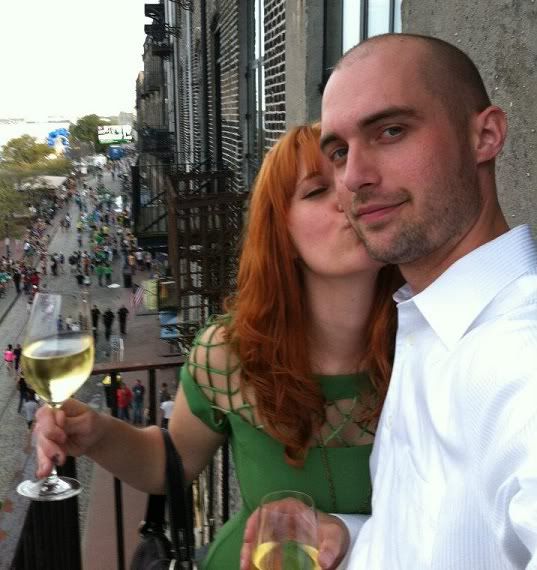 (
Click for a few more.
Collapse
)
I'm going to close on a ranty note, and I apologize in advance. But if any of you see any bullshit like this, I implore you to resist re-posting it, nodding your head in assent, or anything else that would support the disgusting body shaming it perpetuates, even though it thinks it's being cute and supporting the ~everywoman~:
Guess what? The girl on the right has feelings too, and most likely body issues. Pointing her out personally as a "cause" of the problem instead of a (possible) symptom or a villain is not going to make the problem go away, nor is it going to make YOU skinnier. In fact? It goes completely AGAINST the goal it is (feebly) trying to accomplish by 100% perpetuating the idea that a woman's attractiveness should be based solely on the shape of her body. Get the F out of here with that backwards-ass logic. This garbage makes me ashamed to be a human and, considering this particular image was posted by a female (clearly an immature one, with body issues), a little ashamed to be female. We are supposed to be a team, ladies - not pit ourselves against one another. Shaming another woman isn't going to make YOU a better person - it may make you feel better in the short term, but in the long run, it's going to make you look like a bitter and pressed asshole.
Rant over.
Wish me luck tomorrow with the mountains of delicious free food and alcohol. Love you all!
So this week has been The Week of the Cupcake™. Let me explain. Cupcakes have been everywhere. Explanation over.
Current Mood:

crazy


Let me start out by saying this weekend could've been a LOT worse.

Now that that's out of the way, this weekend was pretty bad. I went into it with the best of intentions, I truly did. Let's discuss what Jen did right:

- brought healthy snacks to the movie theatre Friday
- got a kids' turkey sandwich, applesauce, and carrots for lunch at Disney Saturday

And just for funsies, here's the bad stuff:

- about 20 PP worth of alcohol Saturday, including a 10-PP bloody mary
- a salad Saturday night that ended up being way more PP than I planned because of the huge slab of salmon I ate every last bit of
- half a burger, a crap ton of fries, a piece of fudge, and peanut M&Ms Sunday
- snacking mindlessly on chips, nuts, crackers, and other BS last night

So like I said...could've been much worse. And the food itself isn't awful, but on top of fairly low activity this weekend, the lack of tracking all those BLTs (bites, licks, and tastes) is no bueno. Weekends kill me, seriously, especially when fun things are going on. I need to buckle my butt down.

The plan for the rest of this week is to stay OP and let myself splurge a bit on Saturday during Danielle's wedding. I'm not sure what kind of food there will be, but I know she has an open bar and cake calling my name. I want to have a week full of blue and green stickers so I don't feel so guilty splurging a little.

Gym tonight with Katlyn. First run since Thursday. Wish me luck...planning on spending most of the run trying not to fall on my face from exhaustion.
This entry isn't going to be very long because I'm super tired today and my thoughts aren't the most coherent. So bear with me.
Current Mood:

apathetic