(
Food Log: Week 1, Day 6
Collapse
)
All hell broke lose inside my mouth yesterday. I could not stop eating cake. Cream-cheese icing is my enemy. My pants today are tighter than ever and I hate myself a little.
HOWEVER, I still dragged my ass to the gym with Liz and did about an hour of strength work. Realistically, that was closer to 40 minutes with rest and whatnot, which is why I only counted that much on my tracker.
All the icing and cake are estimates because I really have no idea. My first piece was very small, but then I had gobs of things. I regret it. It was yummy but really not worth it considering my weigh-in tomorrow. I've been very good today though and managed not to snack last night
probably because my body has enough sugar reserves in it for two full months
, so those are wins I guess. Chugging water today, going to hit the gym for a C25K workout after work, and cross my fingers to at least maintain my weight in the morning.
Weekend challenges: Derby party (which I am doing the shopping/snack layout form so really there is no excuse) and lunch Saturday at Dixie Crossroads, where they have seafood and vegetables. So again: no excuse. INO!
Hope everyone has a great weekend! XOXO
(
Food Log: Week 1, Day 5
Collapse
)
So I did really well yesterday...except at 2 a.m., when I got up and ate two bowls of cereal. :-/ Not my finest moment, and I didn't measure either so those are estimates. Today isn't going super well...I had a small piece of cake (it had cream-cheese icing, so I was doomed from the start)...but I've tracked my lunch, snacks, and dinner, and I'm going to the gym with Liz after work again. So I'm hoping my body is a little forgiving of last weekend and that I lose SOMETHING Saturday.
I'm currently texting Liz right now, and we're comparing our levels of soreness. Her arms are feeling it but neither of us are sore leg wise. I told her we're doing squats and lunges tonight to fix that, hah. I'm also doing either W2D? of C25K or W3D1. Haven't decided yet. Thinking I might go for the latter. Also want to work more on abs and arms, so tonight might be closer to an hour and a half visit considering I won't be back to the grind until Sunday.
I started making the grocery list for the derby party to make sure I have healthy snacks/drinks on hand. Josh and I are meeting my mom for lunch at Dixie Crossroads in Titusville on Sunday. I already looked at their menu and they have grilled options and veggies, thankfully.
Bobby (my brother) is super into his DDP Yoga program, which is really cool. We don't have a whole lot in common generally, so it's nice to share the health-and-fitness interest. We were texting each other some encouragement last night. He also texted me something that probably seemed pretty whatever to him but to me it really spoke to me: In the middle of our conversation, I texted, "We should text to motivate and encourage each other," and he replied, "We are."
This made me pause and think of how much I do vs. how much I say/plan. Like right now at this very instant I can be making a difference in my life, but WAY more often than not, I choose to plan the change or put it off until tomorrow. That simple two-word reply helped me immensely in that sense.
(
Food Log: Week 1, Day 3
Collapse
)
(
Food Log: Week 1, Day 4
Collapse
)
Needless to say I've been controlling myself for the most part the past couple days. Now that the chocolate is out of the apartment and the peanut butter has been soaped and disposed of, I've made my environment a little easier to deal with. Sad but true that I need that, but I can either feel weak or see the acknowledgement of the weakness as actually a strength and move forward. I'm going with the latter because the former obviously hasn't been working for me.
So a big NSV Monday: I actually stuck to my dinner and snack plans and didn't use Disney (where I got to visit briefly with George/
hekidanjo
and his wife Doreen!) as an excuse to stuff my face with things I didn't need. Plus I got walking points, which is a nice bonus.
Last night, Liz (
lizblizz
) and I went to Planet Fitness. We did 20-30 minutes of weights/machines and then she did 30 minutes of elliptical and I did C25K W2D...4? IDK, I'm doing the second week twice. Tomorrow is my last day, and then Week 3 will start Saturday; my friend Mels is going to come to the gym with me then. And tonight is yoga with my friend Kinsey. It's nice to have fitness buddies, so we can motivate each other.
Josh and I are hosting a small derby party this Saturday at our place, so I need to be prepared for that. Luckily Mels will be there and she doesn't really drink/is trying to be healthier too, so we can help each other stay on track. I'm definitely thankful for that. I honestly don't need to drink.
Not a whole lot else to say, really. I'll be back tomorrow.
(
Food Log: Week 1, Day 1 (with a surprise encouraging text photobomb from Laura)
Collapse
)
(
Food Log: Week 1, Day 2
Collapse
)
Before you all yell at me (and you should), let's discuss the positives:
1. I worked out Saturday. FOR LIKE AN HOUR. Bonus: My running endurance was noticeably better, and even though I'm sore I don't want to jump off a bridge or chop my limbs off from the pain. Progress.
2. I poured soap all over the rest of the peanut butter in my cabinet.
3. I gave the other bag of M&Ms to my coworker. They were BOGO. I'm thrifty. STOP YELLING.
4. It's shark week so I'm sensitive.
5. It was my aunt's 50th birthday Sunday.
6. My friend Alexis hoards holiday candy in her freezer and said, and I quote, "HELP YOURSELF. She also had Spring Oreos just ~lying around~.
7. I counted EVERYTHING, even though a few things were estimates...
8. I'm great and making up excuses. And lists.
9. I will do better this week.
10. I cannot deal with the fact that there were going to be nine items on this list so here's an extra.
Case in point: My dinner, discussed in the subject line, AND the fact that I have zucchini and grapes packed for snacks since I'm going to Disney in a few minutes.
No but for real, I was like LOL JEN HERE ARE SWEETS, YOU CAN CONTROL YOURSELF, RIGHT?
Obviously I cannot. So, lesson learned for the 32847238th time. One day. One day.
It was hot as balls in the office this morning. Glad I brought a change of clothes for Disney because we were allowed to wear shorts. Aw yeah son. That had nothing to do with weight loss or fitness, but it was the most exciting part of my day, so...
I don't have time to write much else, but I'm stoked because Liz is joining me at the gym tomorrow (and maybe Thursday?). Yoga with Jen Wednesday aaaaand we're having a derby party this weekend, so I need to plan for that. STAYING OP THE REST OF THE WEEK.
So let's just get these shenanigans out of the way, shall we?
Current Mood:

silly
So I went back to my meetings today. Asked very nicely for the receptionist to change my start date to today and restart my stats, and she was happy to. Says she's been there and that she understand, which was nice to hear!
So with that being said, here are the highest my numbers will ever be again
until I have a baby at least
:
(
Initial Weigh-In Stats, Measurements, etc.
Collapse
)
You can always see my stats, goals, and whatnot
here
. I'm going to take my measurements and reassess my sizes and such every four weeks. I'll start posting my daily PointsPlus Trackers/logs tomorrow. I also had Josh take "Before" pics, but I'm not sharing those because they're of me in my underwear.
Anyway, the meeting went well. Said hello to my Leader. The topic was on focusing on your meals. She gave the example of looking down at your plate when you're doing something otherwise distracting (like watching TV) and realizing your food is gone and being convinced the dog took it. Well, this happened to me just last night, and my cat definitely had nothing to do with it sooo I could relate. I bought the May/June issue of WW Magazine on Laura's suggestion: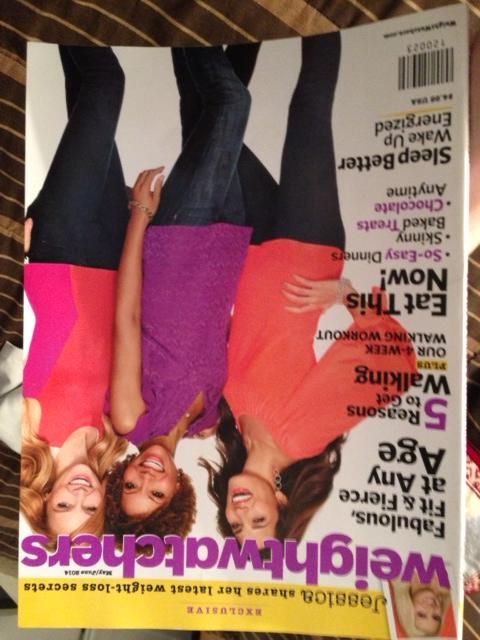 I'm excited to dig into it tonight and get some new recipe ideas and get motivated by the success stories. I went to the farmer's market and to Publix today, so I'm all set for the week. Even washed, prepped, and chopped all my produce to make it easy.
NSV: Went to the gym with my friend Kinsey today and did roughly 30-45 minutes of strength work (abs, legs, AND arms, bitches!) and Week 2, Day 1 of the Couch to 5K program. I was technically supposed to start Week 3 today, but I didn't think I'd be ready. I am though, so that was a nice surprise. I really think the core workouts I've done over the past few weeks have helped my running endurance. :o)
Tonight we're having tilapia, broccoli/cauliflower, and quinoa for dinner. I'm skipping the quinoa because I may have had too many pretzel M&Ms (BUT I MEASURED THEM). Goal is to end the day without dipping into WAPP which, for me, is a feat - especially on a Saturday. I'll use some of the 5 APP I earned today, but maybe not all. We'll see.
Tomorrow we're helping our friend Alexis move. I'm going to have breakfast before we go and bring my lunch, since I know she is serving pizza and beer. :p Going to Daytona in the evening for my aunt's birthday, so the plan is to have dinner beforehand and bring some snacks along. It might be odd because I'll be coming around dinnertime, but hopefully not.
So I bought this book:
The gist is that it's very similar to the Whole30, paleo, etc. plans. I'm not anywhere near ready to do it yet, but Josh said he'd do it with me this summer. We'll probably start in early or mid July. I'm terrified - I'm SO addicted to sugar. But I know this will help me and I need to remember that when it gets really tough.
I know this entry isn't particularly fun or interesting, lol, but I just kind of had to do an info dump. Not in the writingest mood. Off to make dinner and watch a movie. I'll post tomorrow night if I have time but, if not, you'll be getting two food trackers Monday!
I can't believe this is actually on YouTube.
Current Mood:

determined
Turns out I was a little less ready than I thought. Going to hit the gym today through Thursday and have my real initial weigh-in Saturday. I'm down but not out...I'll be back in a few days.
First, I wanted to talk about my brother for a second. He called me a few days ago and told me he wanted to start getting healthy. Now, he has told me this before, but he never really committed to it. Now he has a purpose - he wants to go to a pro-wrestling school in Atlanta. I didn't even know something like this existed until he told me about it and I don't know how I really feel about it in general, but anyway, he wants to go. So he seems pretty motivated to get in shape. He ordered
this workout program
that he's really eager to try. He asked me for help compiling a grocery list and for advice on things to eat, stay away from, etc. and I've been trying to help as best I can. I want him to know he doesn't have to completely deprive himself to get healthy. So I'll probably be updating with news about him from time to time.
So tomorrow is 04/19: the day Josh and I got engaged last year, and the day INO will be my new motto from how until I see that shiny 120 on the scale. I'm going to politely ask the receptionists at my WW meeting to start my stats over again so I can have a fresh start. I've done it before, so I hope they're cool with that. It really helps me mentally.
Here's my Bible for the next five months:
Weight-Loss Progress
Workout Schedule
I have a
Groupon
to
Thornton Park Yoga
that I have eight more sessions on, so those are my Wednesday workouts for the next eight weeks. I've been going with my friend Kinsey and we like it. The studio is very small so it can get cramped, but the instructor is really nice and I always leave feeling refreshed (at least mentally), so I'm happy I bought the Groupon. Mental workouts are just as important as, if not more important than, physical ones. For me, at least, but I think that's probably a pretty universal opinion. Or fact. IDK. Science.
I had pizza for dinner last night and this Mediterranean deliciousness from somewhere local for lunch today. Not good, and I know I shouldn't be eating badly just because I haven't ~started~ yet. I hope I can really see this journey in an optimistic light, and more "You're going to look and feel great!" than "God, you're awful, you need to change ASAP!" Hm...maybe I should do yoga twice a week, hah.
Tomorrow we're going to Josh's and my favorite place for dinner, Ceviche. I already planned my meal. Some of the PointsPlus (PP) are a guess, but some aren't. If any of my fellow WW people want to help correct my estimates, feel free!
Here's the menu
; here's what I chose (for myself - I ain't sharin'):
1 glass red sangria (8 oz.; those glasses are fairly big): 5 PP
Gambas (cocktail shrimp) y guacamole: 4 PP
Cangrejos de la Casa (crab cake), no sauce: 4 PP
Haricot verdes (green beans): 2 PP
Drinks after, when we go out: 8 PP
TOTAL: 23 PP
My plan is to leave 11 Daily PointsPlus (DPP) left for dinner. This would have me using 12 Weekly Activity PointsPlus (WAPP), leaving me 37 for the week, and I will earn them back through my exercise plan this week. The biggest challenges at Ceviche will be resisting more sangria and staying away from the appetizer bread with the oil/pesto, so I'm going to have a filling snack before we go to at least hopefully have success with combating the latter. And I will sip slowly from my glass of sangria and ask for a nice tall water.
Tonight is dinner a this place in College Park called
K Restaurant
for a friend's birthday. Really not sure what to get but regardless, this is the last supper, so I can't promise it'll be anything super healthy. But I can promise I will be posting Sunday (since I'll be busy tomorrow) with my starting weight and measurements, as well as my food log for Saturday and a summary of how the day went.
Here goes nothing. And everything. And I know you're probably sick of this song, but I don't care because it's my motto for this year and Elsa is the newest addition to my favorite Disney Princesses (well, queen, really. ♥) next to Belle and Tiana. I may be dressing as her for an upcoming race, which is a discussion for another post. :o)
Hi again guys. Two posts in a 24-hour period, whaaaat? It's insane, I know.
Current Mood:

full
26.2: The number of miles I walked/ran at the Walt Disney World Marathon in January, a goal I worked my ass off last year to achieve.
3: The number of months it has been between that race and this past week - the first time I've run since, save for once or twice.
4: The approximate number of weeks it took me to suck up my pride at the realization I needed to start my running journey back at the beginning of Couch to 5K and actually do it (tonight, I will be on W1D3).
29: The age I turned last month.
10: The number of years it's been since I started Weight Watchers for the first time. This month actually, I think.
6: The size of the wedding dress I bought that currently zips halfway up.
2006: The last time I saw something resembling the number I saw today on the scale:
19: The date in April I'm going to start taking "It's Not an Option" (INO) seriously up until my wedding day and beyond to be the healthiest version of myself - the person I know I am inside.
1: The number of years it will have been, to the day, that I got engaged when I start this journey this Saturday.
20: The number of weeks I hope to take to reach my goal weight and be able to zip up my wedding dress and say with confidence, "I did this shit."
To say I'm scared is an understatement. But the thing is, I usually let my fear propel me, not stymie me. I've skydived, traveled to the other side of the world, and left a great man to follow my heart and never look back. I've been the first person on either side of my family to graduate from a four-year university, and have never taken no for an answer. I turned getting laid off a year ago into an opportunity to start a freelance career I'd been holding off on, and I wouldn't trade the (albeit arguably small amount of) success I've found with that for anything.
So why in the world have I let fear rule me when it comes to my health and fitness? Why have I let myself gain 25 lbs. since Josh and I got together three years ago?
I think to myself what I'd tell a friend, and it'd be the following:
1. You're good enough.
2. You're strong enough.
3. You're beautiful.
4. You deserve to feel beautiful in your own skin.
5. Food is not the enemy.
6. Junk food will always be there.
7. It hurts because you're changing - without the hurt, there is no change.
8. Your children will look to you for inspiration one day.
9. Forgive yourself.
10. Move forward.
I know these are the things I need to tell myself, and more. I know the journey will be hard, but then again, what journey with a reward worth anything is easy?
I'm tired of going back and forth and shaming myself over and over again. I'm tired of seeing being health conscious as a chore. I'm tired of choosing sleeping in over running, and making up stupid justifications for doing so. I'm tired of looking at my running medals and telling myself I'm not an athlete anymore. I'm tired of being terrified of the impending day when my "big" jeans won't fit anymore, gazing longingly at my neglected skinny jeans, and lamenting over how I can only wear about 40% of my closet (and only 50% of that comfortably). I'm tired of choosing the easy path over the right one, and of feeling sorry for myself. It's not me, and it never has been. And it sure as hell isn't going to start now. It's time to walk the talk, and accept that this is a marathon, not a sprint. Cliché, but one I really need to listen to right now.
I'm going to be blogging here regularly along my journey, and I really hope you guys follow me. It's going to be a rough summer, and I will need all the support I can get.
Love you all. Thank you for continuing to believe in me.
So let's talk numbers.
Current Mood:

contemplative
My icon describes how I've been feeling lately about this whole weight-loss thing. I'm up to almost 145 - a number I haven't seen in a really long time - and I'm pretty upset about it. I'm getting farther from goal, and I just want to find my motivation and mojo again.
Current Mood:

melancholy


Today was a mess, food wise, but hey - I never said I was ready to be perfect. I said I was working on it. And I really am...I just feel like my weaknesses are in social situations, on weekends, etc. During the day I'm usually really good, and when I get a work routine going again I think that will help a lot. But these are all excuses, truthfully. Tomorrow is a full day on the road. I have breakfast planned (two hard-boiled eggs, a Greek yogurt, and an apple), but snacks/lunch? Who knows. I'll probably hit up Starbucks somewhere between ATL and the Florida border, so hopefully that tides me over.

Yurani and I did go for a 5K-distance run today, which was great. It's the second one we've done since I've been here, so at least I'm getting some exercise in. I am so, SO out of shape, you guys. :[ That distance takes everything out of me - and that's INCLUDING walk breaks. I probably walked a good eight or nine minutes of the 37 it took me to complete the distance. And while walking isn't a bad thing, I used to be able to knock out a 5K distance no problem. Well...OK, that's a little bit of a lie. I never finished a 5K and thought PSH, THAT WAS EASY! But it was a different kind of difficult back when I was training diligently. I had to tell myself, "Pain is weakness leaving the body" MORE than once on that run today. It was also very hot, which is another excuse, but there you go. I'm sure in Orlando it would've been 10 times worse. I anticipate a lot of treadmill runs this summer; thank God for the Netflix iPhone app.

Completely off topic, but I've been reading/listening (during my drive up and tomorrow during my drive back down) to Game of Thrones. I watched the first season, but it's been a while so I'm reading the first book to kind of refresh it in my mind. Then I'm going to watch season 2 and read the second book, 3 and read the third book, etc. I hope I can get through them before the fourth season premieres. I want to catch up on New Girl and Community as well. I started watching Buffy the Vampire Slayer on Netflix. Have only seen the first episode and half of the second so far, but I feel like I'm really going to like it. Also, if you're not watching Bates Motel, DO IT. The first season just ended, and Josh and I loved it.

I also want to start up my Rosetta Stone French again. I paid $400 for that thing and used it last year for like two weeks. We're planning on going to France and Germany for our honeymoon, so I need to get on it. Josh is responsible for learning enough German to get us by, and I'm responsible for the French part.

I should get going so I can enjoy these last moment with my BFF before she flies away to Denver. :[ At least Benson will be in Orlando in July. Pretty certain I'm taking him to Disney World...better start prepping now.
It's my last day in Ellijay. Honestly, I should be in bed right now, since I have to be up around 4:30 a.m. D: I have a long drive ahead of me. I'm taking Yurani to the airport on the way home, which is why we're leaving so early. It will be nice to be home when Josh gets home from work, though, so I'm not complaining.