I can't believe this is actually on YouTube.



So I went back to my meetings today. Asked very nicely for the receptionist to change my start date to today and restart my stats, and she was happy to. Says she's been there and that she understand, which was nice to hear!

So with that being said, here are the highest my numbers will ever be again until I have a baby at least:



WEIGHT/BMI
Highest Weight/BMI: 152 lbs./26.5
Starting Weight/BMI: 149.6 lbs. (reeeeally toeing that 150 line, Juneau)/26.1
Current Weight/BMI: 149.6 lbs./26.1
This Week's Loss: N/A
Total Loss: N/A

MEASUREMENTS/SIZES

Bust: 39.5 in.
Waist: 33 in.
Hips: 40 in.
Right Thigh: 25.5 in.
Right Arm: 12 in.

Dress Size: 8
Jeans Size: 10-12

GOALS/GOAL REWARDS
Weight/BMI Goal #1: 140 lbs./24.4 (Reward: This awesome hair masque I've been wanting.
Weight/BMI Goal #2: 130 lbs./22.7 (Reward: This amazing dress I've been wanting.
Ultimate Goal Weight/BMI: 120 lbs./20.9 (Reward: $250 in new clothes)

Goal Dress Size: 4
Goal Jeans Size: 4/6



You can always see my stats, goals, and whatnot here. I'm going to take my measurements and reassess my sizes and such every four weeks. I'll start posting my daily PointsPlus Trackers/logs tomorrow. I also had Josh take "Before" pics, but I'm not sharing those because they're of me in my underwear.

Anyway, the meeting went well. Said hello to my Leader. The topic was on focusing on your meals. She gave the example of looking down at your plate when you're doing something otherwise distracting (like watching TV) and realizing your food is gone and being convinced the dog took it. Well, this happened to me just last night, and my cat definitely had nothing to do with it sooo I could relate. I bought the May/June issue of WW Magazine on Laura's suggestion: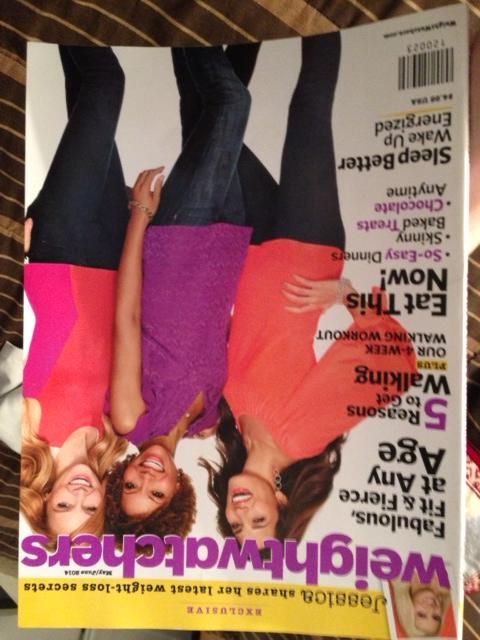 I'm excited to dig into it tonight and get some new recipe ideas and get motivated by the success stories. I went to the farmer's market and to Publix today, so I'm all set for the week. Even washed, prepped, and chopped all my produce to make it easy.

NSV: Went to the gym with my friend Kinsey today and did roughly 30-45 minutes of strength work (abs, legs, AND arms, bitches!) and Week 2, Day 1 of the Couch to 5K program. I was technically supposed to start Week 3 today, but I didn't think I'd be ready. I am though, so that was a nice surprise. I really think the core workouts I've done over the past few weeks have helped my running endurance. :o)

Tonight we're having tilapia, broccoli/cauliflower, and quinoa for dinner. I'm skipping the quinoa because I may have had too many pretzel M&Ms (BUT I MEASURED THEM). Goal is to end the day without dipping into WAPP which, for me, is a feat - especially on a Saturday. I'll use some of the 5 APP I earned today, but maybe not all. We'll see.

Tomorrow we're helping our friend Alexis move. I'm going to have breakfast before we go and bring my lunch, since I know she is serving pizza and beer. :p Going to Daytona in the evening for my aunt's birthday, so the plan is to have dinner beforehand and bring some snacks along. It might be odd because I'll be coming around dinnertime, but hopefully not.

So I bought this book:




The gist is that it's very similar to the Whole30, paleo, etc. plans. I'm not anywhere near ready to do it yet, but Josh said he'd do it with me this summer. We'll probably start in early or mid July. I'm terrified - I'm SO addicted to sugar. But I know this will help me and I need to remember that when it gets really tough.

I know this entry isn't particularly fun or interesting, lol, but I just kind of had to do an info dump. Not in the writingest mood. Off to make dinner and watch a movie. I'll post tomorrow night if I have time but, if not, you'll be getting two food trackers Monday!