(
Collapse
)
So first things first: took my
measurements
last night. I've actually lost 2.25 inches since I started WW again right after my trip, so that's good at least!
I ran my ass off last night. 4 miles at an 11:12/mile pace, which is very much below my average, so I was stoked about that. I did it on the treadmill while watching the
Hey Arnold!
Christmas special on Netflix on my iPhone.
Hey Arnold!
is the best Nicktoon of all time, and if you don't agree, I'm sorry, but you're fiercely misguided. For those of you who have not had the privilege of seeing the Christmas special, here's pretty much all you need to know:
I feel you, Helga. I totally had a crush on Arnold too, and you were way more fierce that that Ruth chick, and Lila too. Squares, to be honest. But yeah, I got teary-eyed during my run, and for once in wasn't due to the pain shooting up my shins or the thought of possibly passing out mid-run, so I guess that's a victory? Hope the other people in the gym didn't see it...they were probably like WTF is this girl on?
I've been keeping up with my running, for the most part. I have Ragnar in three weeks...D: And I have a 10K-distance leg in the middle, so I need to get my body worked up to that by then. It's going to be a huge challenge, but I'm hoping for the best. The most difficult part at this point, honestly, is my schedule. Josh and I are going to Jacksonville this weekend, New Orleans next weekend for Christmas, and then Gainesville for New Year's. So I've really got my work cut out for me as far as squeezing in these longer runs. The
plan
is to run a 5K distance this Sunday morning on the beach in Jax, run 5 miles the morning of Christmas Eve at City Park while Josh takes my mom to breakfast, and then run a 10K distance the morning of New Year's Eve at the gym at Josh's brother's apartment complex (because, let's be real, I'm not running a 10K the morning AFTER New Year's Eve).
Speaking of running, here are a couple of photos from a couple races I've run recently.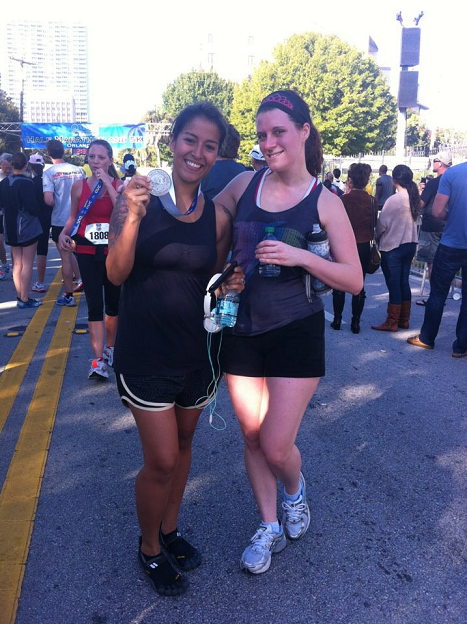 This is my best friend Yurani and me at her first half marathon, the
OUC Half
, which was Dec. 3. She did flipping amazing - 2:08 or so, I believe. She was a machine and I'm so proud of her accomplishment! I met her at mile 9 to run the last 4 miles, which I did have to stop and walk a couple times during, but paced pretty darn well - I think around 11:30/mile. I was supposed to meet her at mile 8 but there was a ton of traffic on 408 (stupid construction), so I was a bit late. Josh was an angel and drove me, and luckily he dropped me off RIGHT at the spot she was about to pass and she saw me. We went to Gizmo that night for dinner. Delish.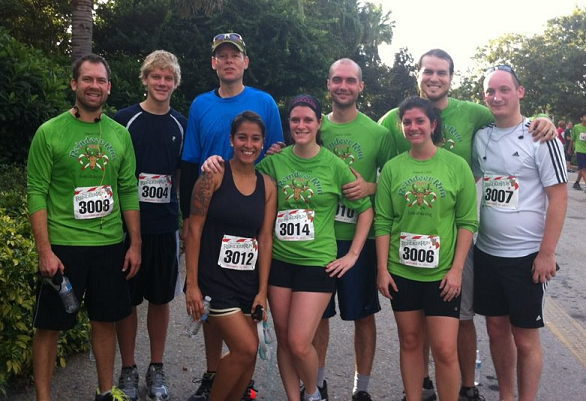 Josh is so adorable, I can't even.
This was at the Track Shack Reindeer Run, which was this past Saturday. I ran it with some of my co-workers and +1s, and Josh and Yurani joined as well. Yurani and Josh did so amazingly - both beat personal goals of theirs! I did OK, about what I've been averaging. The race course itself was at Sea World, which neither Josh nor I have actually ever been to otherwise. People think we're crazy, but honestly, I think for the price there are better theme parks. And cheaper aquariums. But running through the park was a lot of fun. And so many people were dressed all Christmas-ish and had bells on their shoes, including yours truly. Afterward, Josh, Yurani, and I went to First Watch and I restrained myself - had a cup and a half of coffee, egg whites with avocado and salsa on a dry English muffin, and some fruit. I love pancakes and potatoes and bacon and everything First Watch has on their menu, basically, so this was a big victory for me too.
I hope I can suck it up and stick with the running and mindful eating with all the holiday hubbub going on. I'm sad I have to miss my WW meeting next week, since I'll be driving to NOLA...but I checked my scale this past Wednesday right before I left for my meeting, and it was telling me 1.8 above what the meeting scale told me. So the plan is to take my scale with me and weigh myself when I stop for lunch. IDK how I am going to pull this off without looking like I just escaped from the insane asylum, but I'll think of something.
I have been absolutely FAMISHED this morning. I only have 14 PP left for the day, and we are going to dinner in St. Augustine with Josh's parents tonight. :-/ Going to have to research the menu and plan on the way (thank the lawd for the iPhone), since Josh's mom hasn't told him the name of the restaurant yet. He said she always orders salad, so I know I'll most likely at least have that option. But yeah, I think my dinner last night probably wasn't enough to tide me over for the rest of the night after earning 7 APP from my run: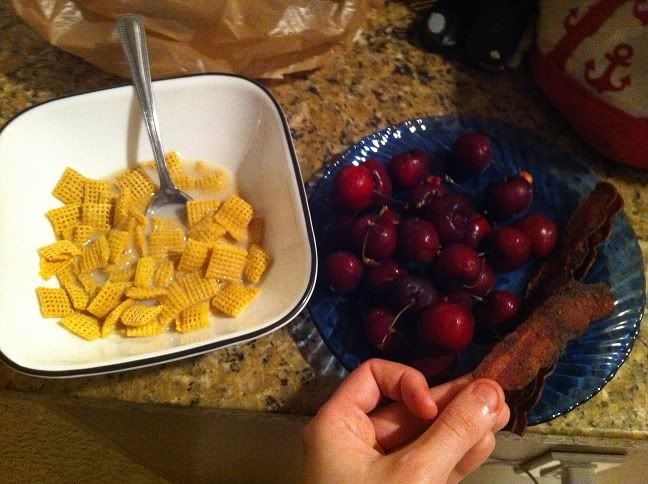 Breakfast for dinner FTW. And it was only 6 PP! I am obsessed with fresh cherries. I used to hate cherries, but it turned out it's just the maraschino ones I wasn't cool with. I can eat them now, but I'm still not the hugest fan.
Another kick I've been on lately is spaghetti squash. I've been using it as a pasta substitute, for ZERO points! It doesn't taste like pasta, obviously, but it's the same shape when you scoop it out. It's really filling too. I have made it with turkey meatballs, low-fat pasta sauce, and some grated Parmesan cheese. About 5-6 points for a large portion and so very worth it. Yum. To make the squash, I just cut it in half lengthwise, scoop out the seeds, place the halves flesh-side down in a casserole dish filled with just a little bit of water (to steam), and bake at 350 degrees for about 30-35 minutes. Then, you let it cool and scoop out the insides with a fork. It comes out like spaghetti - hence its name.
I bought some eggplant recently too. The other night I sliced it up (yay for my roommate having a mandolin - I need to get one of those things), baked the slices, layered them on some WW multi-grain toast (2 PP for two slices!), added 1/4 cup of low-fat pasta sauce (1 PP) and 2 tbsp. of Parmesan cheese (1 PP), and toasted that sucker in the toaster oven. Eggplant parmigiana sandwich for 4 PP, son! Very delicious. I probably should've cooked the eggplant for less time (maybe around 12 minutes instead of 15), but it turned out well nevertheless.
I really want to try
this
recipe that my friend Krys of
Peony & Pear Tree
and
Krys Melo Photography
recently posted about (beware - she also recently posted photos of amazing-looking cake pops and you WILL lick your monitor). It looks extremely delicious and very WW friendly, so maybe when I get back from New Orleans I'll try it. Don't have time before then, sadly. But I'm a squash fanatic, especially lately, and I love working around meat if I can, so I can't resist trying it out. Plus, Josh isn't a big fan of squash, sooo anything to bring him over to the dark side...
I can't help it. Squash is so versatile and delicious.
Oooh, I also have to gush about new MAC blush I got in the mail yesterday!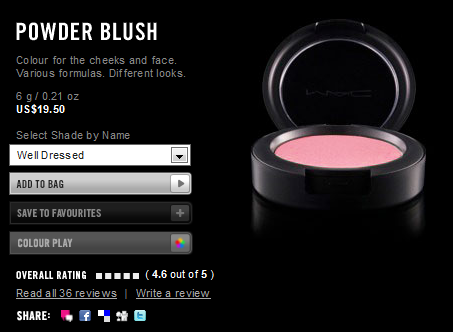 Thank the lord. I needed it so badly. Thanks, Secret Santa co-worker for my gift card. :o) Now I just need to get some new brushes and eyeshadow primer and I'll be good for a while.
This post has gotten way too long, so I'll be back Monday to recap the weekend and talk about my goals and whatnot.
Thanks to those of you reading. ♥