(
Collapse
)
(
Collapse
)
(
Collapse
)
(
Collapse
)
(
Collapse
)
OK so this week has not been easy food-wise, and for the most part I have allowed myself to fall victim to treats and deliciousness. But I have counted every single bite I have taken, and not allowed myself to pretend like I haven't eaten certain things, which I'm happy about. I do wish I was planning better, but I'm counting, I'm sticking my workouts for the most part, and I'm doing this all through a fairly brutal-so-far holiday season. So that counts for something. It isn't up to my usual standards, but I'll take it for now.
My first big challenge this week was a birthday party Mels and I hosted Friday night at our apartment for our friend Demos. Here's what she decided to make: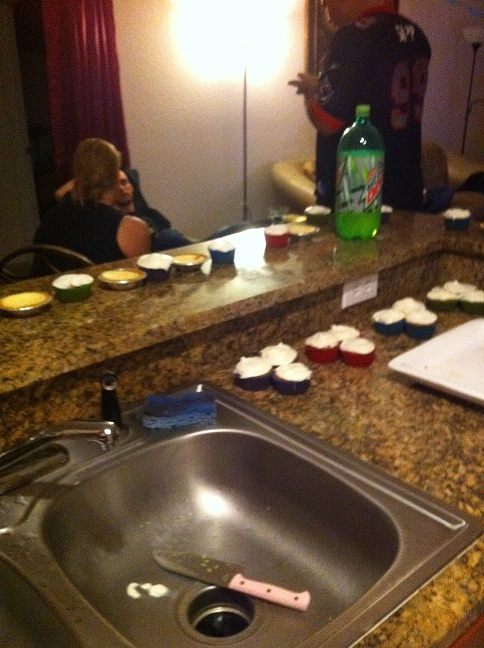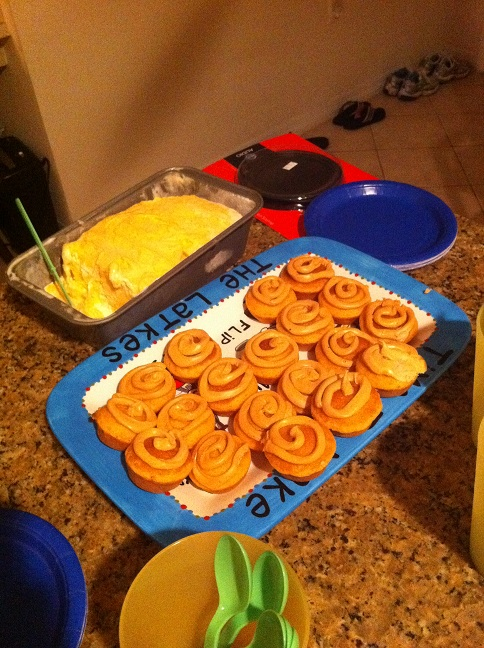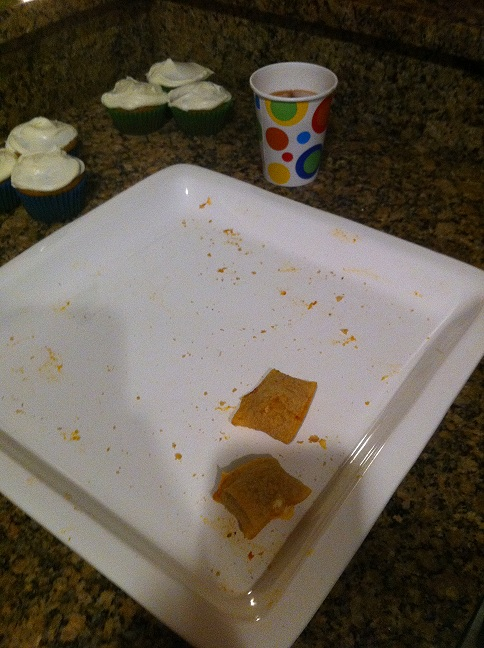 The pizaa rolls were pretty much gone by the time I took this, as you can see. And to be fair, our friend Katlyn brought the creamsicle cupcakes and ice-cream cake (middle photo).
But yeah, that first photo is an assembly line of mini cheesecakes and pumpkin cupcakes. Stuff Melissa doesn't like, but of course I can't get enough of. My reaction upon walking into the apartment was actually one of anger, kind of. Not at her, but just at all this food - like it was DARING me to eat it. I was so irritated at the blatancy that I busted this out and ate it.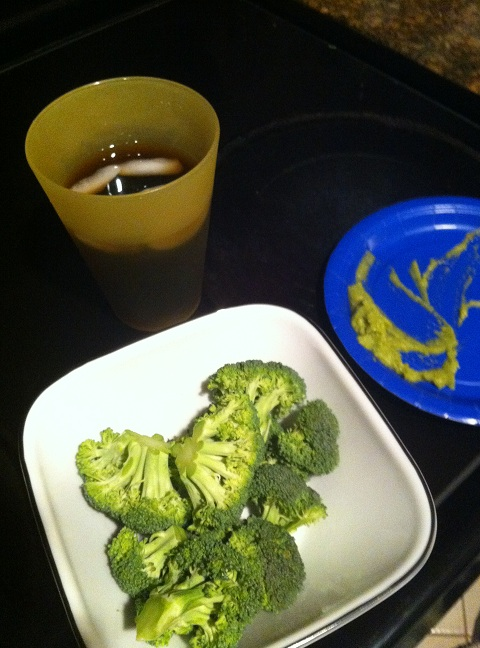 Yep, that's vodka and Coke Zero next to my broccoli and guacamole, and I don't even care. And at the end of the night, I measured ONE cheesecake (2 oz., 5 PP), and ate it. Didn't touch any of the cupcakes, the chips (not pictured), the ice-cream cake, the pizza rolls, etc. So I felt pretty good with my one indulgence - three if you count the vodka-and-Coke-Zeroes, but I don't. I pushed all the leftover desserts and chips into Demos' hands to take home, so that was a win. I forgot about the ice-cream cake, but honestly, I'm not a huge creamsicle fan so it's OK. Thank the lord.
So that was Challenge #1. Challenge #2 was eating out with Mels on Saturday. We went to Sweet Tomatoes and I did pretty well. Got a big salad, a cup of soup, and some fruit for dessert.
Challenge #3 was Josh's birthday dinner Sunday night, where I actually did a lot better than I thought I'd do. I only had one beer, since I had to drive, which was convenient. I made a build-your-own salad with dressing on the side. But I did split a potato-pancake appetizer with Josh and had a few bites of his food to try. I mean, how could I not, honestly? Look at it: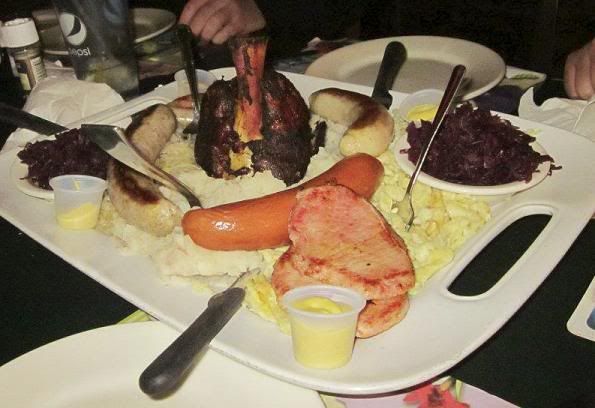 And I had a couple bites of his dessert, which was a German cheesecake. Here's another photos of us with our beers. He had a great time, which I'm very happy about. He deserves it.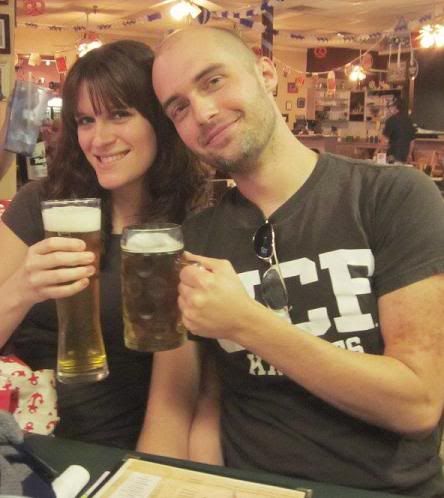 Honestly, all that food (plus the sushi I had a couple times, though I actually picked low-PP rolls and had broccoli instead of a second roll each time) probably wouldn't have done me in for the week. The real kicker was Challenge #4, which was my work's Thanksgiving potluck yesterday. Turkey, gravy, mashed potatoes, green-bean casserole, corn casserole, cranberry sauce, cakes, pies, rolls (well, biscuits - my co-worker Jared is a little special)...you name it, we had it. There was a pumpkin-pecan streusel pie from Publix, which I didn't even know existed.
My pants are so pissed off at me today, I can't even begin to explain. I am very grateful Josh's mom makes some healthier dishes at Thanksgiving, because I want to enjoy myself and not have to worry as much. I decided to bring along those
brussels sprouts
I made a couple weeks ago that Josh loved, instead of the potatoes. I hope they're as much of a hit with the rest of his family. I'm very excited to spend the holiday with them. I miss my own family so much and wish I could see them, but I'm so grateful for Josh's family inviting me to share their traditions.
I'm a bit irritated at myself for skipping my first yoga class Sunday, but like I said, I am proud that I've been keeping up with my running schedule for the most part. I did another 5K distance last night. I took it a little slower than I did on Thursday, which turned out to be a wise decision because my shins were on fire afterward. I iced them for a while and they seem to be fairly OK today, so that's good. I want to put in a 5K distance tomorrow morning, since Josh and I are leaving for Jacksonville right after work.
I know that this week's not-so-great food choices will reflect on the scale tomorrow, and it does suck. But I know kicking myself over it and dwelling on it will do nothing, so I'm going to try to keep a positive outlook and tell myself that just because it's Thanksgiving week...and Josh's birthday week...doesn't mean I'm going to be out of control. I want to challenge myself to lose this week. I know I can do it - I just have to want it badly enough.