Current stats as of 11/16/2011
(
Collapse
)
SO freaking happy to report that despite my weekend of epic WW fail, I still managed to squeeze out a 1.4-lb. loss at my meeting today. I have no idea how it happened, as my scale said I was UP two pounds on Monday morning, but I'm absolutely stoked. On the one hand I feel like I don't really deserve it, but I do know I have been working pretty hard these past couple of weeks to get back on track, especially with my running. Ragnar is really motivating me, because I don't want to be walking and letting my team down come January. But I do know that my negligence this past weekend WILL catch up with me if I'm not diligent, so I'm going to continue on this trend and plan, plan, plan.
Speaking of, at my WW meeting today, my Leader talked about Thanksgiving and how to avoid going crazy. We filled out this little sheet to plan our meal: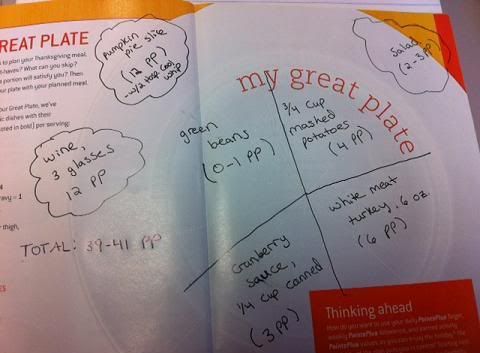 Luckily Josh let me know what his mom makes every year for Thanksgiving, so I planned around that, and incorporated a couple things I planned on bringing, which are the salad and mashed potatoes.
This
(and
this
and
this
) is the salad recipe I'm looking at, and
this
is the mashed-potatoes one. I'm going to use chives instead of garlic in the potatoes because his dad can't eat garlic.
Overall, I think I was pretty realistic with my plan, and will have a chance to eat the things I really love (i.e. mashed potatoes and pumpkin pie). At first I thought, "Well maybe I can just have half a slice of pie..." But I know I'm going to eat the whole thing, so I'm just planning for it and I'm going to enjoy every second of ONE slice of pie. Moderation, baby. I has it.
Also happy to say I stuck to my plan of getting a spinach salad last night. Yes, I stole a few of Josh's French fries, but I ended the day with PP left over so I'm OK with that. The poor waitress, though. I was like, "So, can I have this salad, but not with this, but with this stuff instead, of and can you add asparagus on top and give me your lightest dressing on the side THANKSSSS!?" They forgot some stuff on it, but I hardly ever get salads the exact way I asked for. It's just hard saying, "Leave off this, this, and this" because then it's boring as crap and I feel resentful. Usually they're nice about it, but it's still annoying that they ALWAYS get it wrong. This is why I love Mellow Mushroom and Designer Greens. Build Your Own Salad FTW.
Last note for today: I know this isn't health-and-fitness related, but I encourage anyone who is against censorship to fill out this form:
http://americancensorship.org/
I am very, very anti censorship in general, and if you don't agree with me that's OK. I just want to ask as many people as possible to please, PLEASE support open communication and teach your children, aka the future leaders of this country, right from wrong, real from make-believe, educated from ignorant, etc. instead of pulling reality out from under them and telling them their right to speak their minds is in danger of becoming extinct.