(
Collapse
)
The answer to this enigma is the ????? portion of our lives: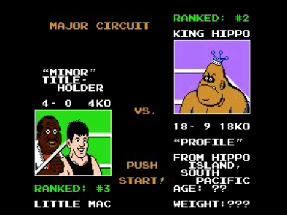 As you can see from this extremely dated character profile, we have no idea about King Hippo's age or weight. Likewise, Jen has absolutely no idea how many WAPP she is over for the week - that number under the cut is a gross underestimation and represents only the amount I went over as of Saturday night. King Hippo and I have made good use of this punctuation mark, and we're both honey badgers about it, honestly.
Also, I looked liked this after Food & Wine Fest.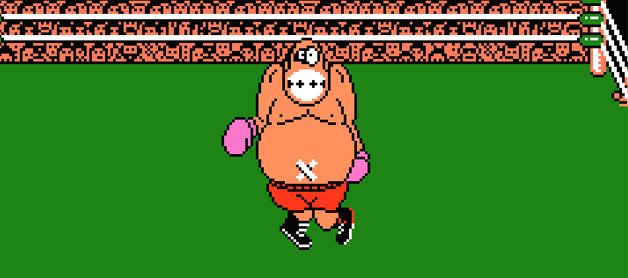 KO, indeed. And no, I will not post photos from the Wii version, because
I pretend
it doesn't exist.
Yesterday was actually a pretty big success for me, though, and that deserves some recognition. I stayed within my PP, which wasn't too hard, considering I had a very busy day at work and was still full from Sunday. But I also ran a full 30 minutes not only without feeling like I was going to die, but feeling energized and HAPPY afterward. I don't understand it either, but I like it. And it made me remember that once upon a time, I did actually enjoy running. Normally I get very discouraged with my fitness if I'm doing poorly with my food choices, and vice versa. Yesterday I pimp-slapped the lazy away and burned off some of the F&W fodder (...at least one of the beers.).
And it felt GOOD! It was tough at first, but around mile 1.5 I got that second wind that I know means my endurance is working its way back, slowly but surely, to be able to take me longer distances. I felt like I'd really tapped into the INO ideology again. For those of you who don't know, INO stands for "It's Not an Option" - in this case meaning skipping my workout was not an option. I got it from a book I read last year called
Secrets of a Former Fat Girl
, which I loved, and may re-read. It's been staring at me from my bookshelf. Though if anyone has any other reading recommendations, I'd love to hear them. I love reading about success stories, especially from people who have always been heavy or have had a particularly difficult time changing their mindsets, whether they were financially unstable, endured a challenging upbringing, etc.
I'm happy I've been pretty solidly
sticking to my workouts
. I got lazy Friday, but if I skip, I'm glad it's not a run day. I need those if I want to stand any chance of running my Ragnar legs all the way through, which is the goal. I also realized I can probably run my 30-minute days a little faster, so I'm going to pump up my speed to about 5.2 Thursday and see how I do. I really want to beat my 5K PR (which is 34:09) at the Reindeer Run on the 10th. I'm pretty sure I can do it if I really focus and stick to my runs. I know the core workouts help my endurance a ton, as well, so I can't slack on those anymore.
Let's talk about Houlihan's. Houlihan's is where I am going to my first STC (Society for Technical Communication) meeting tonight, and it's the type of restaurant where you may as well order a burger, because the salads aren't going to do you any favors if you're trying to lose weight, or avoid a heart attack altogether.
Here's the menu
, and
here are the nutrition facts
. I'm not even joking, here. Most of their salads are well over 1,000 calories, which is outrageous. So my plan is to get the spinach salad with grilled chicken and no nuts, and ask them to add some of the fruits from the other salads (bananas and oranges) if they can. And then to get a lighter dressing on the side. I'm estimating 8 PP max, but I'll have to see how big the portion of chicken they give me is.
Weigh-in is tomorrow. I hope the scale conveniently forgets about my weekend.