A victim of what, you may ask?
Of food, of course. I am a victim of food. Totally not my fault that I went crazy at Food & Wine Fest. The food FORCED itself into my face and made me enjoy it. You weren't there...you don't know how aggressive the following items were:
- free Moroccan lunch consisting of lamb and chicken souvlaki pitas, hummus, chips, couscous, parsley something or other, and around 8 oz. of beer (seriously, free)
- 24 oz. more of beer
- cannoli
- crème brûlée
- escargots
- a lamb slider
- salmon with maple glaze
- lobster roll
- beef with sweet potatoes
- pumpkin mousse
- Belgian waffles
- baklava
- a frozen blue margarita that tasted like blue ice pops
I'm lying about being force-fed these things, obviously. But this was the most creative way I could think of to tell you about my failure of a Sunday. I ate so, so much. Granted, everything was a tiny portion, but still. I didn't even eat the snacks I'd packed, which there is really no excuse for. Honestly, the fact that I was already over for the week just made me not care at all, which is bad. I want to do a better job of planning, so I can enjoy things I really want. Yesterday, I physically enjoyed all that food. It's the mental portion that needs some love, and I'm going to move forward and work my ass off these next couple days to stay on program and try to detox from the sweets. I've been eating WAY too much sugar lately, and am too embarrassed to admit exactly how much, so you guys will just have to trust me. I'll start posting my food logs again tomorrow, but seriously, I didn't even track Sunday. I started to - even made a filling low-point breakfast for Josh and me - but from there, all hell just sort of broke loose, and I WILL pay for it Wednesday on the scale. But just for the hell of it, here's a photo of us in front of the Epcot ball.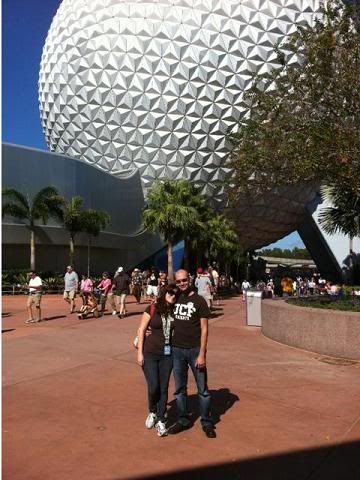 We did have fun. But it's back to the grind for me.
On the plus side, I have run two 5K distances since Thursday without dying, and I tried new recipes this weekend:
Recipes are under the cut:
(
Collapse
)
I skipped the port wine and just used water, because port was $7.50 for the smallest bottle and I only needed 1/4 cup, soooo no. Hah. I also used fresh blueberries instead of frozen, because they were on sale. Yes, I'm cheap. But I did buy all the herbs fresh, and that crap adds up!
I burned the onions on accident (oops), but it actually helped a little, I think? I don't know. Josh says the best thing you can burn is onions. They tasted good and crispy, but the apartment was fairly smoky for a few minutes. Worth itttt. I don't like the texture of soft onions, anyway.
(
Collapse
)
Very delicious! Again, I used fresh dill. Next time I'd add a little less of the lemon flavor, but overall a really solid recipe. I didn't have a steamer basket, so I just used a little bit of water and stuck the cut-up potatoes right in it.
(
Collapse
)
The recipe, as you can see, calls for broccoli and cauliflower, but I just used all broccoli because it was on sale. :p I also used panko bread crumbs, because that was what I had on hand, and they worked fine. The end result had a bit of a crispy outside, just like the brussels sprouts from last week. So Josh, of course, loved it (as did I).
So yeah, everything turned out really tasty. Here are some gratuitous photos of my boyfriend enjoying it: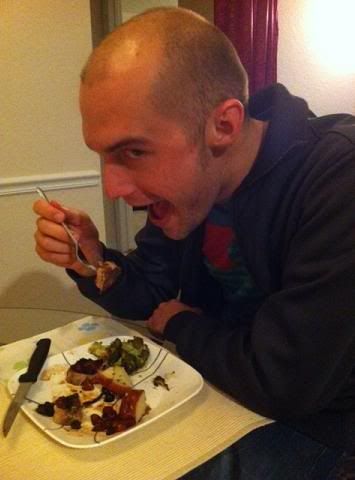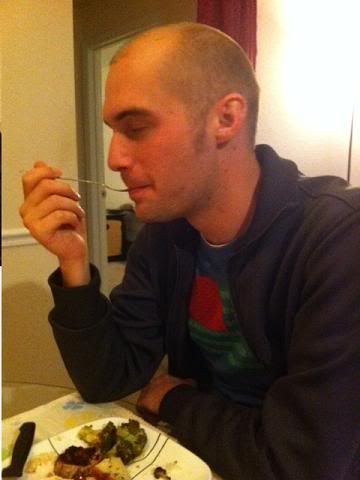 My cat, Penny, felt left out, so here she is eating a treat at the table.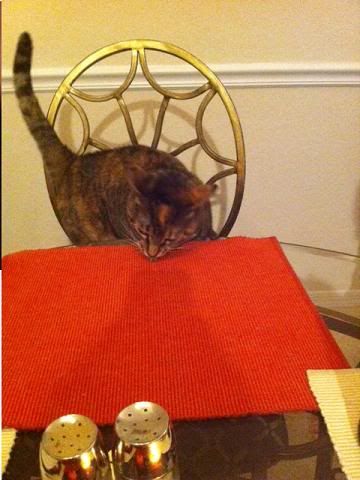 And here is my roommate's cat, Cosette Cthulhu Falcor Possum-Face, or as I call her, the Devil.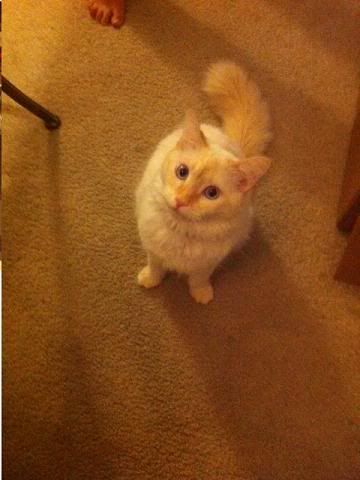 GTFO, DEVIL. Don't let her cuteness fool you. She's evil.
Tomorrow I'm going to Houlihan's for a career-related thing, so my next post will include my menu plan, as well as a recap of today's food and exercise progress.