(
Collapse
)
(
Collapse
)
So Monday, Tuesday, and Wednesday this week were great. Yesterday? Epic fail. My boss is amazing and bought beer and chips and made salsa and guacamole and shrimp fajitas and I ate it ALL. Yes I drank beer at work.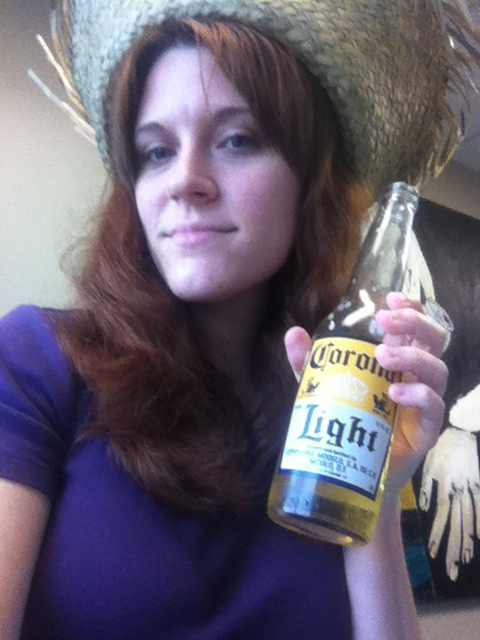 See? And I mean...at least I chose the light version. /justification Excuse my puffy hair and eyes. I'M STILL DETOXING FROM THE COFFEE, OK!? But seriously I just went ahead and said I used all my APP and WAPP because I have no idea and I know it's the safe and responsible thing to do. Blah blah.
And I'm still addicted to sweets. I have mixed two packets of hot-cocoa powder with coffee creamer today and just eaten it. I wish I was kidding. I measured the creamer but honestly when it gets to that point, does it matter? I'm going with yes. Aforeffort.com
The good news is I've been doing pretty well with my workouts. I didn't get on the elliptical Wednesday, but I did get through my runs on Tuesday and yesterday. Granted, this morning I felt vomity because my Tostitos binge apparently didn't pair well with a 30-minute run, but I totally deserved it after shoveling all that BS into my facehole. I'm really happy I can still get through a 30-minute run with no walk breaks, but it's not enough for me. I'm up weight and I can tell my body is done letting me make excuses and being forgiving. I feel so much different than I did two months ago, and I really want that to change...sooner rather than later.
I ordered a new
Bondi Band
. I lost the one Kitzzy gave me. :[ I loved that thing too. I had it at the Corporate 5K and I remember having it at the end of the race but I have no idea where it went after that. So I'm excited to get that because my bangs are crazy and the band I have now slips a lot.
Heading to Jacksonville tonight with Josh to visit with his family for Mother's Day. I'm excited for a nice relaxing weekend. It's going to be beautiful out tomorrow, so we're going to the beach. We are supposed to play tennis tomorrow and run Sunday, so there's some activity. I just hope I can keep my food in check. I brought some extra snacks to work for the trip up there since we're going straight after work, so hopefully I won't be starving by the time we get there.
Happy Friday! I would post that Rebecca Black video, but I hate that song.
Here's
the "Glee" version, which is infinitely better. But still awful.